In previous articles, we have mentioned that the way we make up our eyes and the effect we achieve is very important since it is what gives the expression to our face.
To achieve an impact look, eyelashes play a very important role, some prefer to create an effect of greater length, others of more volume and if you are like your goal is to create both, which you can do with your favorite mascara or better yet. With the application of magnetic eyelashes.
This type of 'false lashes' began to take hold a couple of years ago and has several advantages such as greater hygiene since it does not require the use of glue, you can use them on multiple occasions and they have a more affordable cost than eyelash extensions.
If you are interested in learning how to use and apply them step by step, then I recommend that you keep reading.
What are magnetic eyelashes, and what are they made of?
This type of false eyelash is generally handmade, based on silk and you can use them approximately 30 times, of course, they have 4 to 5 micro-magnets that allow them to stick with each other in your eyes, however, You may come across some brands that require the application of a gel with micro-magnets particles.
They come in a pack of two pairs since one row of the eyelashes is placed under the other so that they can be glued correctly, generally on the packaging it tells you which one is placed on top and which one is placed below.
And although they have much fewer contradictions than glue false eyelashes, you should be careful not to use them daily as they can damage yours.
How to apply magnetic eyelashes step by step?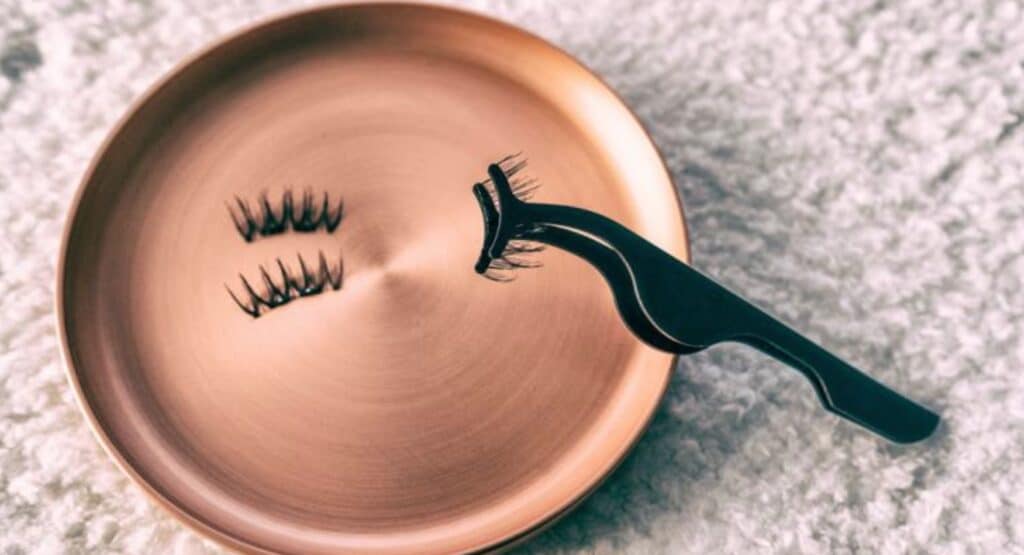 1 – First mascara
Before starting the application of the magnetic eyelashes, you mustn't forget to comb your lashes and apply at least one coat of mascara.
2 – Top lashes
And now the moment of truth, you can start placing the eyelashes, for this, you must make sure which is the strip of eyelashes that goes up and start by placing this strip first.
As we mentioned, it is very likely that on the packaging they indicate which is the upper part and which is the lower part.
3 – Bottom lashes
Once the top row is ready, you can begin applying the bottom row.
Place this strip just below the one you glued on top so the magnets can do their job and connect both rows.
It is important that both strips are placed as close to the root of your eyelashes as possible to achieve a more natural eye makeup effect and that they get lost with yours.
4 – Repeat the first steps
To finish your 'look' you can repeat the first three steps, in case you need to rearrange the eyelashes you can do it by taking them carefully from the corner and pulling them towards the place where you want to position them.
How to apply magnetic eyelashes (video tutorial)
You can see the application process in the following video:
Cautions I Should Take When Using Magnetic Eyelashes
Although magnetic eyelashes are a 'beauty product' that was made to be used several times, they must take certain care to maintain good hygiene and avoid being mistreated.
Once you have applied your eyelashes, avoid applying more layers of mascara as you can damage them, for this reason, it is recommended that magnetic eyelashes be the final step of your makeup.
When you want to remove them you must do it very carefully since the life of the product depends on this.
To keep them clean and in good condition, we recommend that when you remove them, you clean them using a Q-tip and then store them in their case.
As a tip, we suggest that before applying them you verify that your mascara has dried, in order not to damage the eyelashes.
Pros and cons of magnetic eyelashes
Pros:
You save time, unlike other types of lashes, magnetic lashes are placed in seconds.
The skin of the eyelids does not suffer from pulling.
They look very natural
Its design allows them to adapt to any size and shape of the eye.
You can use them up to 30 times
Don't smear your makeup with glue.
Cons:
To achieve speed when applying them you need practice.
When they are the first times you use them, it can be difficult to place them right at the root of your eyelash.
It is not recommended to use them every day as they can damage your eyelashes.
It is common for them to store more dust than other types of lashes.
Best Magnetic Eyelashes
We know that after reading this article you are going to want to try using magnetic eyelashes in your makeup if you haven't already.
We share the best brands and/or kits that you can find in the market.
Ardell Magnetic Lash $ 13.00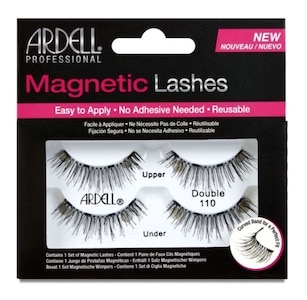 If it is the first time that you try this type of eyelashes, we recommend that before investing in one of a higher price you try these and find out if it is really what you are looking to achieve with your 'look'.
Arishine Magnetic Eyeliner and Lashes Kit $ 24.00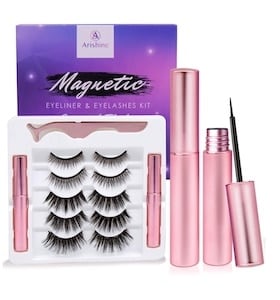 We love this kit with different styles of eyelashes, from the most natural to the most 'glam' you can choose according to your 'mood' or occasion. You can find this one on Amazon.
Lola's Lashes Rose Quartz Magnetic Eyelashes and Eyeliner Kit $ 65.00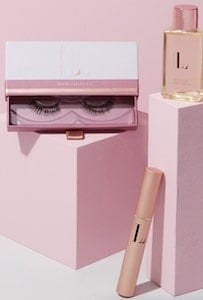 An added value for this lash kit is that it is vegan & cruelty-free and comes with brown or black eyeliner, as well as a cleansing oil to remove the 'waterproof' eyeliner.
OpulenceMD Beauty Now You See Me Kit $ 70.00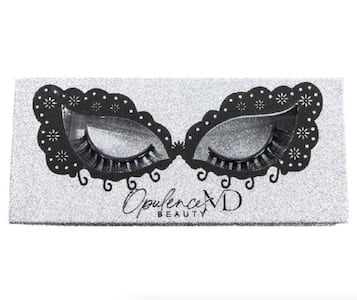 If you use glasses, this kit is for you, since the eyelashes were designed for people who need glasses to improve their vision. The set contains a gel eyeliner and an applicator so that when using your eyelashes the process is much easier.
One Two Lash Magnetic Lashes $ 65.00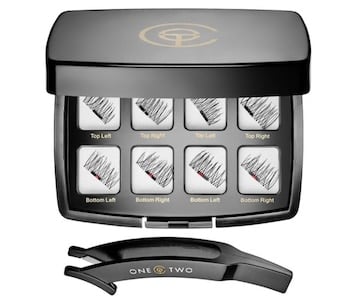 If you are looking for a more natural look and you already have experience in applying eyelashes, this set may be an excellent option for you, since the eyelashes are already cut so that you can place them only on the edges of your eyes, it comes in two pairs of eyelashes with its applicator and with a 'case' to make it easier to keep them in good condition.
In conclusion, magnetic eyelashes are a good evolution of false eyelashes, because as we mentioned during this article, they help us save time, they are easier to care for and they last longer, just to mention some of their benefits.
If you dare to use them, be sure to take the recommendations that we shared with you.