Whether you wish to exercise or stretch for physical therapy or muscle building, resistance bands are a great option. These are often used as a gentle, transportable, and affordable alternative to single weights. 
The bands are ideal for anyone, from beginners to athletes due to their range of resistance, functions, and abilities. They can be used in the gym, on the go, or at home for your workouts. 
Finding the best resistance band set can be difficult if you do not know where to look, how they work, the benefits, and various types. We are here today to help you discover the best resistance band set for you:
What Is A Resistance Band?
Resistance bands are elasticated bands used for muscle strengthening and improving joint flexibility. The latex bands come in various strengths which enable users to choose an appropriate strength for their purpose and personal abilities. 
Resistance bands have existed much longer than you might think. They have not always been used solely as a piece of equipment to intensify workouts. Once, they were made from surgical tubes as used for rehabilitation purposes due to sports injuries. They were used for injured patients to help with motion and strength in affected areas, such as shoulders, legs, back, and neck. 
Today, they are much more commercial and used in a variety of ways. Resistance bands can be used for flexibility, resistance brand training, strength training to target certain muscle groups, and for full-body workouts. 
⇒ Read more about our best resistance band workouts.
The various types include:
The 5 Types of Resistance Bands
Depending on what purpose you are using a resistance band for, you will need to know what the differences are. Some can be used for simple strengthening training, that works to target specific muscle groups. Whilst others help with specific exercises. 
The different types are as follows:
Flat Bands
These are used for resistance training, warmup, and stretching pre and post-exercise, and popular for rehabilitation purposes. They come in various strengths and do not have handles.
Pull-up Bands
Pull-up bands are similar to flat bands, but thicker to create more resistance. These are most common its fitness centres and gyms for those who want to intensify their training.
Tube Resistance Bands
These are the original version of the resistance band that are made with handles. This makes it easy to anchor them anywhere from your feet to door handles.
Lateral Resistance Bands
Similar to resistance tubes but are designed for the lower body, as they fit around the ankles. This helps improve and intensify lateral exercises, such as squats and lunges.
Figure-8 Bands
These bands are shorter in length and easier to control, the figure 8 bands are ideal for beginners. They come with handles and can be used multi-purposely from arm to lower body workouts. 
All bands come in different resistances, which can be tailored to each individual's strength. They typically vary from very light to very heavy to suit beginners and athlete level trainers. Research has found that after a few weeks of using resistance bands, muscle strength and body flexibility improves significantly. 
You may be wondering exactly how resistance bands can benefit your workout:
Benefits of Resistance Bands
Resistance bands are easy on the go equipment that can be used at all levels to increase the intensity of a workout. The biggest comparison is dumbbells, which are very difficult to transport, expensive, and not accessible to every trainer. 
Affordable: most resistance bands are inexpensive. Most cost less than $30 for a set.
Portable: bands are easy to take on the go with you as they are compact. 
Adaptable: depending on what type of band you get, most are adaptablee for your purpose. One day they can be used for strength training and the next day, you may wish to use them for improving flexibility. 
For all levels: as most resistance band sets come with a variety of strengths, they can be used by beginners to top athletes. 
Muscle tone: if you aim to grow and tone your muscles but you do not have access to high-grade gym equipment, these are the best option. Anyone can achieve the same results when used correctly and regularly.
Flexibility: as well as improving your muscles, you can improve your flexibility with resistance bands. They are easily adaptable to help with posture.
⇒ Read more about simple exercises to lose weight anyway.
With many benefits all trainers can obtain, let's discuss the 9 best resistance band sets on the market: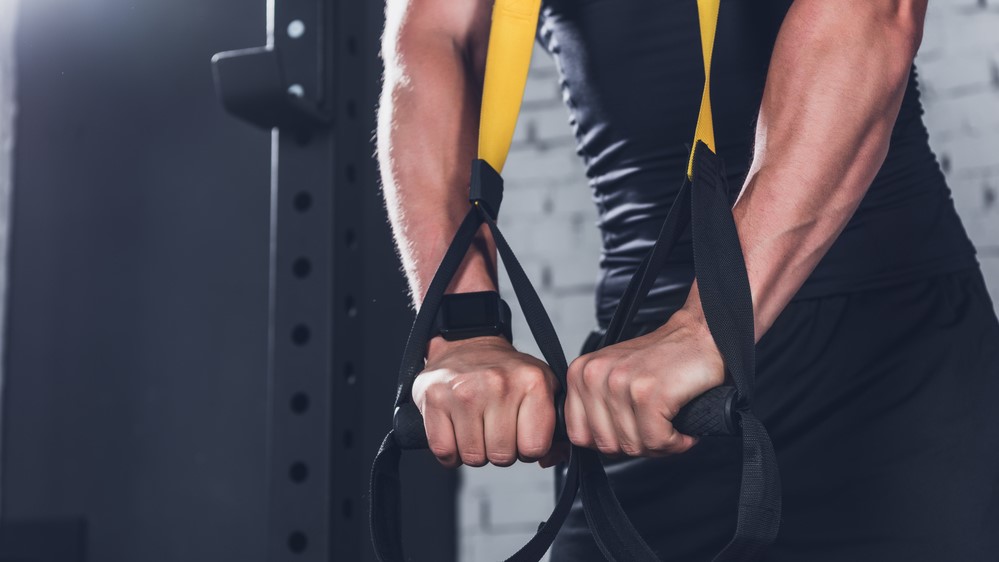 The 9 Best Resistance Bands Set
As mentioned, resistance band sets can be multi-functional. Or, some perform better for different uses such as muscle training, assisted pull ups, and full-body workouts. To find out the best set for your needs and preferences, see the best on the market below:
1 – Gritin Resistance Bands – Best For Beginners
This is a great for those new to exercise or partake in light training. These are resistance loop exercise bands, often referred to as flat bands. The sets ranges from extra light resistance to extra heavy. This makes it great for beginners who like to use different resistances for various exercises and purposes. 
The bands come in a carry case, which is great for transportation. Reviews say they are made from great material and perfect to take around with you. For 5 bands the price is pretty impressive.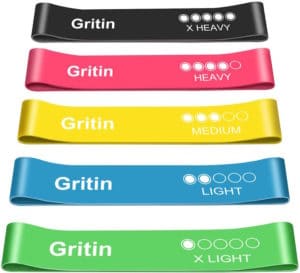 2 – ELVIRE SPORT Resistance Bands – Best For Lower Body
FITFORT resistance bands are made with durable anti-slip rubber, making them ideal booty bands for lower body workouts. The reason for these being great for lower body is that the material is more resistant than typical flat bands. This helps intensify lower body exercises more than regular bands.
The FITFORT bands have three resistance. This includes levels from light and medium to heavy. They are easy to use for all varieties of lower body exercises from squats to lunges and glute bridges. 
This set also comes with a travel friendly bag, making it easy for users to put them in their bag for immediate use.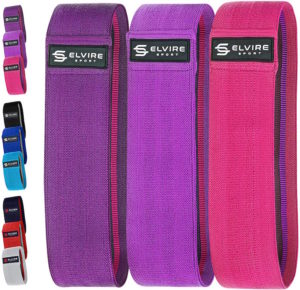 3 – TheFitLife Resistance Bands Set – The Most Versatile Tubes
If you are looking for a set of resistance bands that are versatile, TheFitLife bands offer that. You can use the 5 different resistances with or without handles for all types of band exercises. Whether you want to use them for muscle toning, stretching, pull-ups, lower body, or full body workouts, these are suited to all. 
The band set is durable, portable, and affordable. As these are multi-tasking and comes with more features, such as removable handles, they retail for a little more than other products.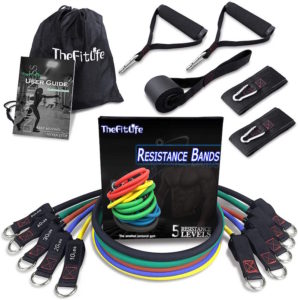 4 – Power Guidance Resistance Bands – Best for Pull-ups
For those seeking help in intensifying or assisting pull-up exercises, the Power Guidance band set is a great option. These are available in a set of 3, which can function for pull-ups and stretching. Ranging from 10 to 175 lbs, each band can resist different weights and strengths. 
Although these are best suited to pull-up exercises, they can also be used for various other movements such as squats and bench press. 
You can purchase single bands or the set of 3 retails on Amazon.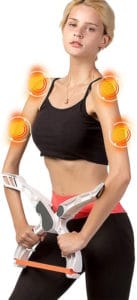 5 – BESTOPE Resistance Band Set – Best for Heavy Weight Training
Heavy weight training requires extremely durable bands. Thee BESTOPE resistance bands are made from premium quality latex, which can withstand up to 125 pounds of strength.
These bands can improve your strengthening workouts and help target specific muscle groups. They can be used for arm, core, back, chest, and leg movements. 
The set comes with 4 resistance variations, making this a great set for those who mix light and heavy weights during a workout. 
As this brand uses more premium materials, the cost reflects that.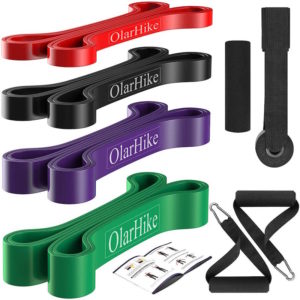 6 – Serious Steel Assisted Resistance Band Set – Best Overall
The Serious Steel Assisted band set is a bestseller. The reason is that they durable yet stretchy enough to assist a range of workouts. These bands can be used for pull-ups, yoga, rehabilitation, muscle toning, and more. 
These are great for regular exercisers, as they are premium professional equipment. 

7 – Perform Better Band Set – Best for Rehabilitation
Perform Better bands are popular due to their size. These are are great for targeting specific areas of the body as they are half the size of regular bands. Being able to target certain areas makes them ideal for rehabilitation purposes. 
This brand is known to be used in clinics and gyms for those who need to improve mobility, stability, and flexibility for injured areas. 
There are 4 bands of different resistances. All are 9 inches in length, which is considerably shorter than regular bands.  
Reviews state that the mini bands are also great for smaller frames and are extremely portable. The set retails is for 4 items.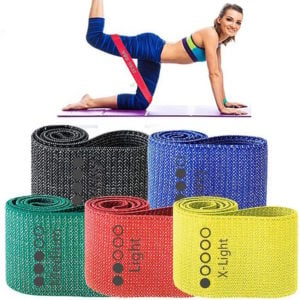 8 – OMERIL Resistance Band Set – Best for Sensitive Skin
The OMERIL brand uses eco-friendly stretchy materials, which are very kind to the skin. Some resistance bands can be tough and sticky on the skin, whereas these are not. As they are gentle on the skin, this makes them ideal for anyone who suffers from sensitive skin. Or, those that find other bands tough on the skin.  
This set of 5 bands ranges from light to extra extra heavy resistance, making them versatile and suitable for all levels of exercise.
This resistance band set is one of the most affordable, retailing for the 5 bands.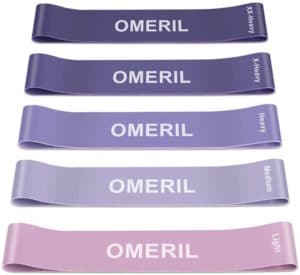 9 – Black Mountain Resistance Band Set – Best for Full-Body Workout
For those who like to use resistance bands for a full body workout, the Black Mountain band set is extremely versatile. 
This set comes with a door anchor, handles, and ankle straps. All of which are easy to detach, making them effective and fuss-free for a full body routine. Each band offers a different resistance levels, making it great for all abilities.
Black Mountain Products make it easy for anyone to range their workouts from pilates and yoga to lower body, pull-ups, and muscle toning. 
This set retails is for the 5 bands and extra features.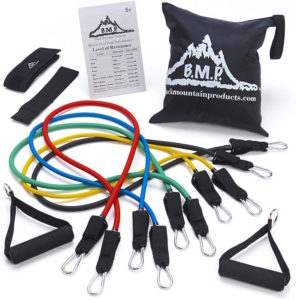 All of the listed resistance band sets mentioned here are available to purchase online at Amazon. Some brands may be able to be purchased in-store at fitness shops or gyms. 
The bands can be used for multiple purposes and are all easy to use for men, women, beginners, and athletes. 
All sets come with instructions, either manual or accessible online, which can guide you for how to use them correctly and effectively. Research states that gathering information from guides and books can influence people to exercise as well as improve their workouts. Thus, verifying that the guides that come with these sets will guide you into improving your resistance band workout. 
How to use resistance bands (video)
Check out a video explaining how yo use some Resistance Bands.
Whether you have or haven't decided which set is the best resistance band set suited to you, these FAQ's might help with your decision:
Frequently Asked Questions (FAQ)
Which resistance band is the hardest?
All sets come in a variety of strengths, ranging from very light to very heavy. The heaviest resistance band is considered the hardest. But, this will vary from person to person depending on their abilities.
How do I choose a resistance band?
Resistance bands are multi-functional. You can find bands that are suited to different purposes from yoga, rehabilitation, muscle toning, muscle building, stretching, and more. Some sets can be used for a variety of workouts whilst some are suited for one purpose. 
Is it safe to use resistance bands daily?
Routinely exercise contributes to a balanced lifestyle. Using resistance bands everyday is safe when used correctly. 
Which resistance band is good for beginners?
Most resistance band set come with a range of strengths, meaning they can be used by beginners or athletes. For anyone looking for a set that is versatile and easy to use, Black Mountain or Gritin products are well suited.
Can resistance bands build muscle?
When used correctly, resistance bands can build muscle. Heavier resistances will allow a person to target and activate specific muscles, from arms, chest, and lower body. 
What is the difference between resistance bands and tubes?
Resistance bands are designed to place even pressure on your body, while resistance tubes are made to give a more concentrated pressure against the body.
How heavy should my resistance band be?
Depending on your requirements, weight of between 3.6 to 5.5 kilograms is recommended for strength training.
Is resistance band and TheraBand same?
Yes, they are. TheraBand is the brand that makes resistance bands.
Do resistance bands burn fat?
Higher intensity bands will be most effective for burning muscle. When the muscles strain and are pumping, this will cause a person to burn fuel. Hence, burning fat. They are a great piece of equipment for any person partaking in exercise. 
With these answers in mind, here is our conclusive roundup opinion:
Depending on your abilities and exercise purpose, there is a resistance band set to suit everyone. This guide will help you with which to choose, as there are many on the market. There are different types, brands, and benefits of each set, which can be found above. 
Resistance band sets are a great tool for improving your workouts, enhancing muscles, and increasing mobility. As they are easy to transport, they are a great option for people who have a diversified or focused workout routine. 
For any more questions about resistance band sets, please share them with us.