Are you wondering how to sell workout programs on the internet?
In this article, you'll learn more about the techniques that allow Yannis and me to earn more than €1,000 per month automatically. Do you know what? This is the same marketing method that is used by the biggest online sports coaches. By the way, we decided to base this whole text on the example of Michelle Lewin, a real star in the fitness business.
How does Michelle Lewin manage to sell fitness classes on the internet?
You don't know Michelle Lewin? You may be the only one ;). The American born in Venezuela has a really atypical story. A success story that makes you dream. Let's decipher the reasons of her success.
1- A well-conducted storytelling
Her life is worthy of a novel. She grew up without her biological father before being abandoned by her stepfather at the age of 14. She started working at that time to help her mother financially. When she first went to a gym at 17, she was very skinny at the time.
In 2012, she emigrated to the United States and decided to become a fitness model. She passes contests. In parallel, she creates an account on Instagram where she shares her daily life.
Here is a video if you want to know more about her :
What's interesting is that this video is featured on her YouTube page. Why? Her story helps connect people to her. She relies on emotion to sell sports programs on the internet.
2 – A strong presence on social networks
Instagram
YouTube
Facebook
Twitter
Note that on Instagram, as of this writing, she has 13.4 MILLION followers. That's just crazy.
When you analyze a little bit of what she posts, here's what you can pick up:
Regular posts
Photos where she is highlighted
Free exercises for her followers
No open advertising like "Look at how to do your abs, and don't forget to take out your credit card to get a program".
Sports and lifestyle photos
Humor
3 – The tool she uses to sell sports programs on the internet
What interests us now is to show you how she sells her fitness classes. Go to her website. What interests us is "Workouts" in the menu.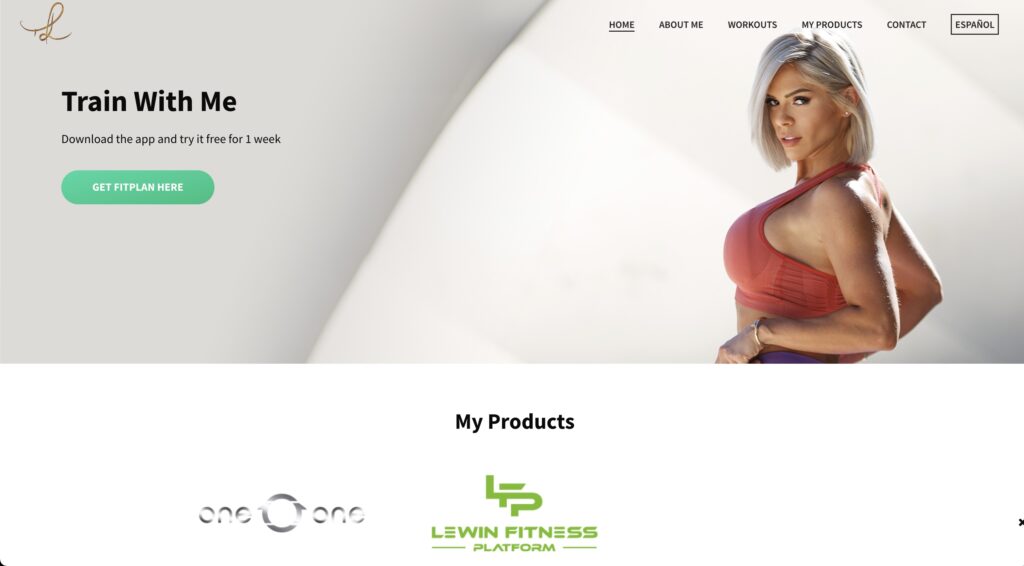 The workouts are the fitness programs. Let's click on them and analyze them…
We have framed the elements and given them numbers to better explain them to you.
The first thing to note is that she uses what is called a sales page. How does she manage to sell them, and how does she get people to pull out their credit cards?
Here are the elements that make up her sales page:
A tagline that presents the direct benefits in terms of TRANSFORMATION for the client who follows the program.
A secondary hook: "Improve your fitness and surpass your goals".
An action button that tells the user to click, in the imperative form. "Train with me".
Presentation of the characteristics of its programs according to customer benefits. A pictogram and a short sentence are more effective than a long speech.
Amazing testimonials. Why? She wants the Internet user to say to herself: "They have succeeded, why not me? Moreover, note that her target is clearly defined: she wants to help women. These women are young (between 25 and 35 years old) and have a variable starting physical condition.
A sales video with catchy music. She presents herself in her best light, smiling and wearing a fitness outfit.
Now that we've seen that, we wanted to explain how you can use her information for your sports coaching business.
7 steps and tools to sell fitness programs on the internet?
Do you want to sell fitness programs?
Do you have a particular skill in fitness?
You are a sports educator in a particular discipline and want to share your knowledge?
Becoming an online sports coach is an activity that allows you to enjoy yourself and make a living from your passion. The advantage is that it is possible to automate some of the tasks.
You certainly don't have Michelle Lewis' story, nor her physique, nor the desire to post yourself in a swimsuit on Insta.
Neither do we, but we still manage to generate a supplementary income of 1 000 €/month. We followed a few steps and put in place some tools like Michelle.
1 – Have something to pass on
As you can imagine, we have to start here…
What is your skill?
What makes you want to pass on?
What are your qualifications?

2 – Laying the foundations of your business
Who are you (storytelling)? You don't have to be emotional like Michelle. You can talk about your story, the people you have already helped, and your desire to share your knowledge. This will allow people to see that you are competent and friendly.
In what form do you want to sell sports programs on the internet:
Videos?
Daily videos?
Exercise sheets?
Sheets + videos + coaching via Skype or live?
Is there a market? Check out competitors' websites, snoop on their social networks, go on forums, ask around, etc. If there is competition, it's a good sign!
3- Create a website
Your website is your main showcase to sell sports programs on the internet. You can download our free sports coach website template. There are many "codes" to respect so that your website looks professional, but detailing them here would be too long. We suggest you have a look at lesmakers.fr to learn how to create a website and monetize it!
4 – Create pages on social networks
Like Michelle, go on Instagram and Facebook and start building a community. The advantage of these two social networks is that you can link them. By posting on Insta, your post can also be published on Facebook. You save a lot of time. You can also automate the publication with the Alfred software, for example.
5 – Create a sales funnel
Following Michelle's example, you can create a nice sales page.
We believe that it is essential to give before you get customers. In another article, we published the following diagram that shows you how to make an effective sales funnel on the Click Funnels software.
6 – Adopt a traffic strategy
The longest one, perhaps…
To make sales, you need to have people visiting your page. Here's how to attract them:
Ads
YouTube videos
Blog posts
Posts on social networks
7 – Analyze, test, and improve conversion
On the internet, there is a great thing, it is that you can have information about everything about your site, your pages and statistical data.
For example, here are the stats of a capture page. We offer a gift in exchange for an email: 44, 15% of people who clicked on the link gave their email contact.
You can test to improve your conversions by changing the words, images, design, etc.
Conclusion
That's it, we're done with this article about the different tools to sell sports programs on the internet. For our part, we use the software Systeme.io.
What are you waiting for to take action?
Tell us if anything is blocking you and what information you're missing.