Statistics show that there are around 75 million vegans worldwide. Year on year this figure is increasing. Whilst this percentage is still quite low considering the worldwide population, veganism is rapidly on the rise. 
Last year alone over 150,000 people in the UK took part in 'veganuary', increasing the total number of vegan Britons to over 1 million. This month of veganism is a new way to introduce people to the diet for them to witness and reap its many health benefits. 
Many fear that the vegan diet would result in protein and nutrient deficiency due to lack of animal produce. Yet, there are many ways and studies that reveal ways to combat vegan dietary and vitamin deficiencies. 
Today we are discussing the best way for vegans to increase their protein intake. Vegan protein powders are quickly overtaking the protein supplements industry. To follow is more about why they are so popular and the best vegan protein powders on the market:
What is Vegan Protein?
Studies show a worldwide increase of vegans each year. In just 5 years the US vegan community multiplied by six, with over 6% of Americans claiming to be vegan. 
Consumers' diets are becoming more diverse and a lot more aware of what they are putting into their bodies. 
The vegan diet consists of plant based nutrition. This diet eliminates all animal produce from meat to dairy, honey to eggs and animal derived ingredients. Many have the misconception that vegans lack protein. Yet, not many are aware that there is a simple way to inhibit protein deficiency. Similarly, not enough people are aware that there are incredible vegan substitutes for animal products. 
Vegan protein is simply derived from plants as opposed to animal products. Thus, instead of dairy, meat and egg protein, vegan protein comes from nuts, seeds and grains. The most popular vegan protein sources are soy, hemp, rice, pea and peanut.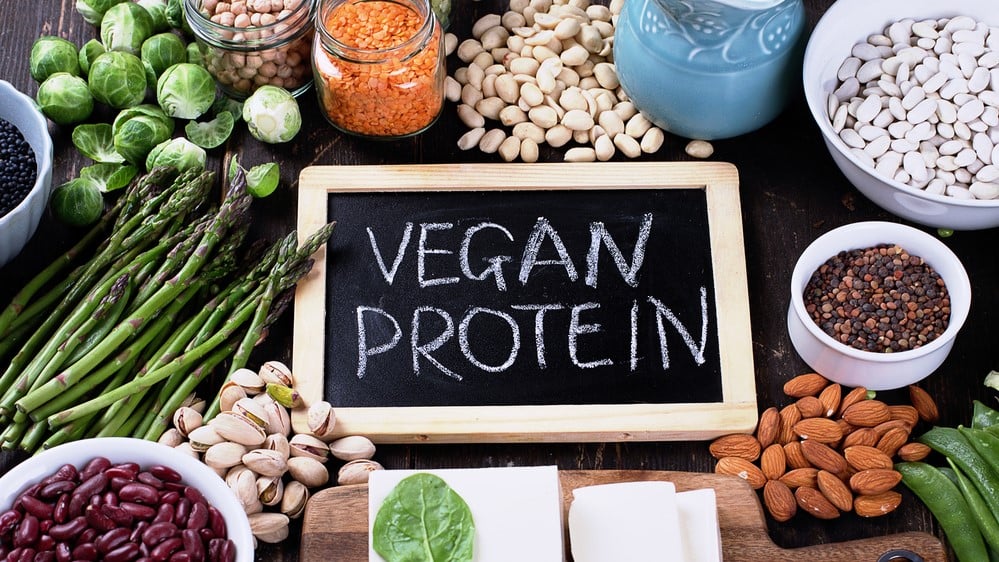 Currently, scientists have found that soy is the only complete vegan protein which can offer a consumer all 9 profiles of amino acid. Other vegan protein alternatives provide some form of amino acid profile, but not as great as soy. But, that does not mean you should rule others out. Soy products do not work for everyone. Or, some individuals may see greater results from other plant based protein substitutes. 
Vegan protein powders are a simple no fuss way of increasing your protein intake. You can add them to smoothies, juice, oats, baking and so much more. 
They are also an easy method for ensuring your body is getting enough essential amino acids to maintain and repair muscle tissue. Whether or not you partake in regular muscle straining exercise, vegan protein is a great way to actively inhibit loss of muscle mass and bone strength. 
To help you discover and decide for yourself which is the best option for you, we are sharing the 11 best vegan protein powders on the market:
As there are a multitude of vegan protein powders on the market, we are here to share the top 11. They are top due to a variety of factors from price, flavour, benefits and dietary values. Everyone is different as will there vegan protein choice be. Some may choose veganism as their lifestyle. Alternatively, people may choose vegan protein powders due to diet and/or health reasons. 
This list of the best vegan protein powders is to help you narrow down those that would align to your lifestyle, diet and goals. 
1 – Best Vegan Protein Powder: Bauer Nutrition Vegan Protein Powder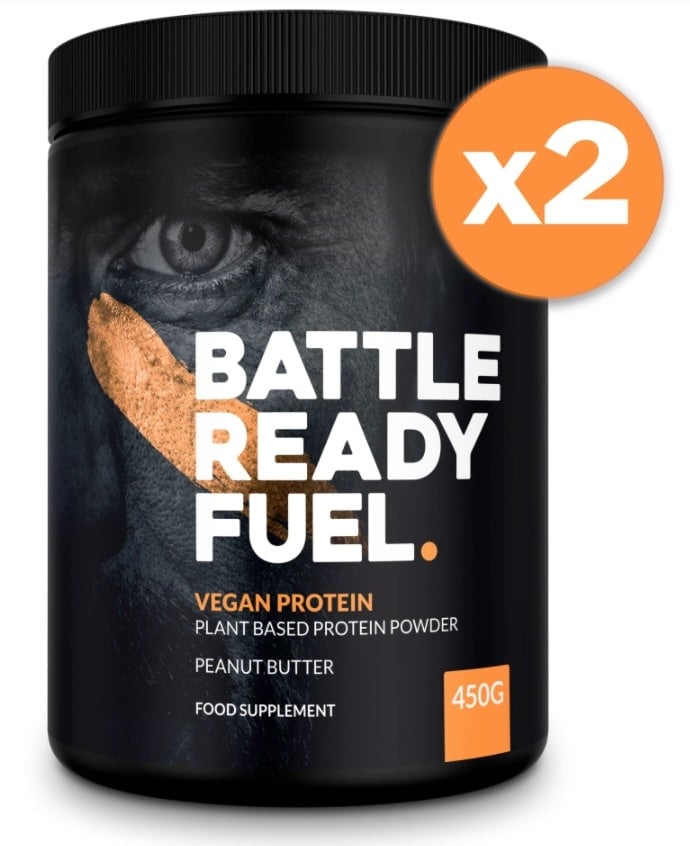 When weighing up a vegan protein's pros and cons, it is easy to see where it should rank on the list. The Bauer Nutrition Vegan Protein Powder pros outweighed its very few, if any, cons. A few came close, but this product exceeds others for a few reasons.
First, it is 100% plant based and free of any artificial flavours or sweeteners. This means it is safe for all to consume, ranks high on the amino acid profile list and is easy to digest. It's main ingredients include pea and hemp protein, inulin and ginger. This is one of very few vegan protein powder that has added digestive enzymes and prebiotics, making it quick to breakdown for quick results and it is easy on the gut. 
Bauer Nutrition Vegan Protein Powder is also soya free and contains 25.5 grams of protein per scoop. This helps its consumers reach their optimal protein daily intake goal with minimal effort.
It is fairly priced at less than $25 per tub per 450 grams.
2 – Best Tasting Vegan Protein Powder: Vega Sport Protein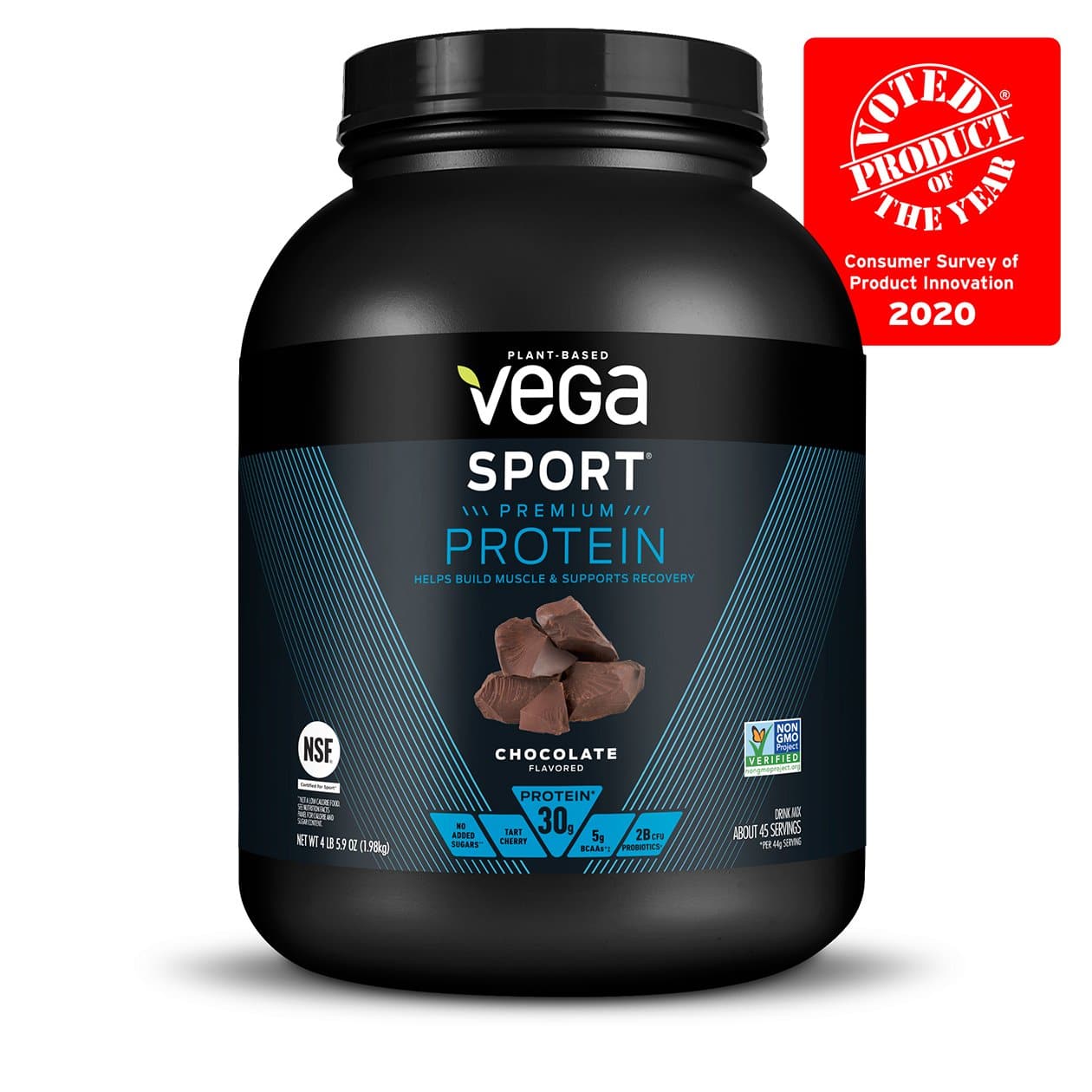 Often, protein powders lack taste. Whilst some will consume a drink no matter the taste for  the benefits of the product, others prefer to have a nice tasting drink. 
Vega Sport Protein has been reported by its consumers as the best tasting vegan protein powder on the market. In 2020 it was voted the number one vegan protein in the US. 
It's no surprise why as it comes in many flavours including chocolate, mocha, peanut butter, berry and vanilla. This allows its consumers to enjoy it with just water, making it lower in calories. It also makes it delicious to add to smoothies and plant based milks for shakes. 
Although there are many flavours, Vega Sport Protein Powder contains zero sugar. It is made from natural plant based ingredients such as pea, alfalfa protein, pumpkin and sunflower seeds.
Even with few ingredients and zero sugar, it manages to promote 30 grams of plant based protein per serving. 
Vega Sports Protein is sold in two sizes large and extra large, starting at $49.99 for the smaller size. 
Read more about Vega Sport Protein, the benefits and reviews here 
3 – Vegan Protein Powder For Bodybuilding: Bulk Powders Super Pea Protein Isolate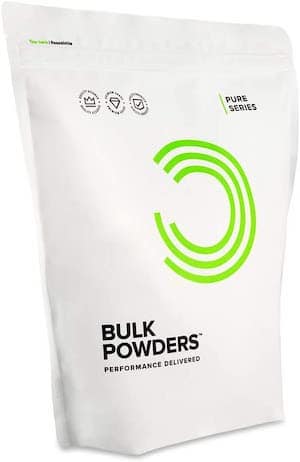 Many misconceive vegan protein powders as unable to increase muscle mass. Although it can sometimes contain less protein and have a lower amino acid profile than animal protein, the right vegan proteins can indeed help with bodybuilding. 
Bodybuilding protein powders need to contain a high serving of protein per scoop. This is because the body needs a large amount of protein to gain muscle at an excessive rate. The highest plant based protein option is pea protein as it has a similar amino acid profile to whey protein. Thus, the best is Bulk Powders Super Pea Protein Isolate. There are 24 grams of protein per scoop. For bodybuilding, it is recommended to take a double scoop after a muscle training workout. 
It is GMO free and a pea isolate protein, making it more soluble than most pea protein products. 
Bulk Powders Super Pea Protein Isolate comes in a variety of sizes from 500 grams to 5kg. The most popular and well valued size is the 2.5kg bag, which costs around $30. 
4 – Vegan Protein Powder For Weight Loss: PlantFusion Complete Plant Based Protein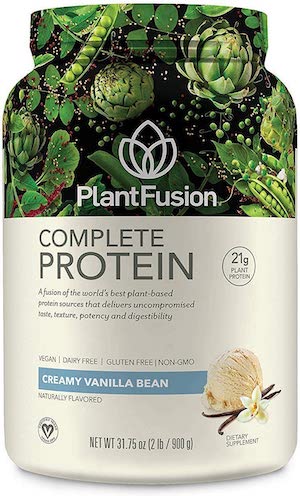 The best protein powders for weight loss are those with fewer calories, carbs and fat than the rest. After reviewing all that highly rated, PlantFusion Complete Plant Based Protein came out on top. 
With only 120 calories and 2 grams of carbs and 3g of fat per serving, it's a no-brainer option for those seeking weight loss. PlantFusion protein has an impressive protein to calorie ratio with 21 grams per scoop. It is sold in a vanilla bean flavour which means it can be easily enjoyed with water to help with calorie restriction. 
PlantFusion sells the Complete Plant Based Protein at $39.99 for 900g. A fair price for a large quantity. 
5 – Lowest Carb Vegan Protein Powder: Sunwarrior Protein Warrior Blend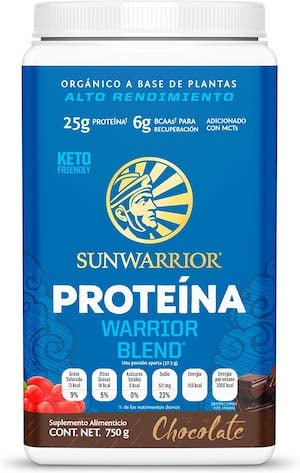 Most plant based proteins average at 5 to 6 grams of carbs per scoop. Which is considerably low for a high protein drink. Yet, Sunwarrior have created an incredibly low carb option for those looking to limit carb intake for their lifestyle or diet. 
One serving of their Protein Warrior Blend contains 2 grams of carbs, making it one of the lowest on the market. The blend is formulated with pea and hemp protein, goji berries and MCT's making it all natural, easy to digest and great for weight loss.
This is sold as one of the most keto-friendly plant based protein options. The keto diet requires very few carbs, which means this stands out as a great low carb option.
It is moderately priced at around $35 per 750 grams. 
6 – Vegan Protein Powder For Women: Tone It Up Plant Based Protein Powder
The Tone It Up brand is made by women for women. Their organic plant based protein powder is a clean blend of pea and pumpkin seed protein. Each serving offers 15 grams of protein. Although this may seem a much smaller amount than other plant based protein powders, it is ideal for women looking to maintain a healthy protein intake for muscle repair and strengthening. 
The ideal protein requirement depends on an individual's body weight and fat mass. For women, protein intake is typically lower. Hence, 15 grams is a well portioned protein serving size for women. 
The Tone It Up formula contains no artificial sweeteners or ingredients, making it safe and effective. Additionally, it is gluten, GMO and of course dairy free. It is only 90 calories per serving yet comes in several delicious flavours. Their plant based protein powder comes in coconut, chocolate, caffe latte and peanut butter. 
It retails at around $40. The brand is loved by women worldwide. There are other protein based products for their consumers to enjoy from collagen boosters to premade shakes.  
7 – Unsweetened Vegan Protein Powder: Nutiva Organic Hemp Protein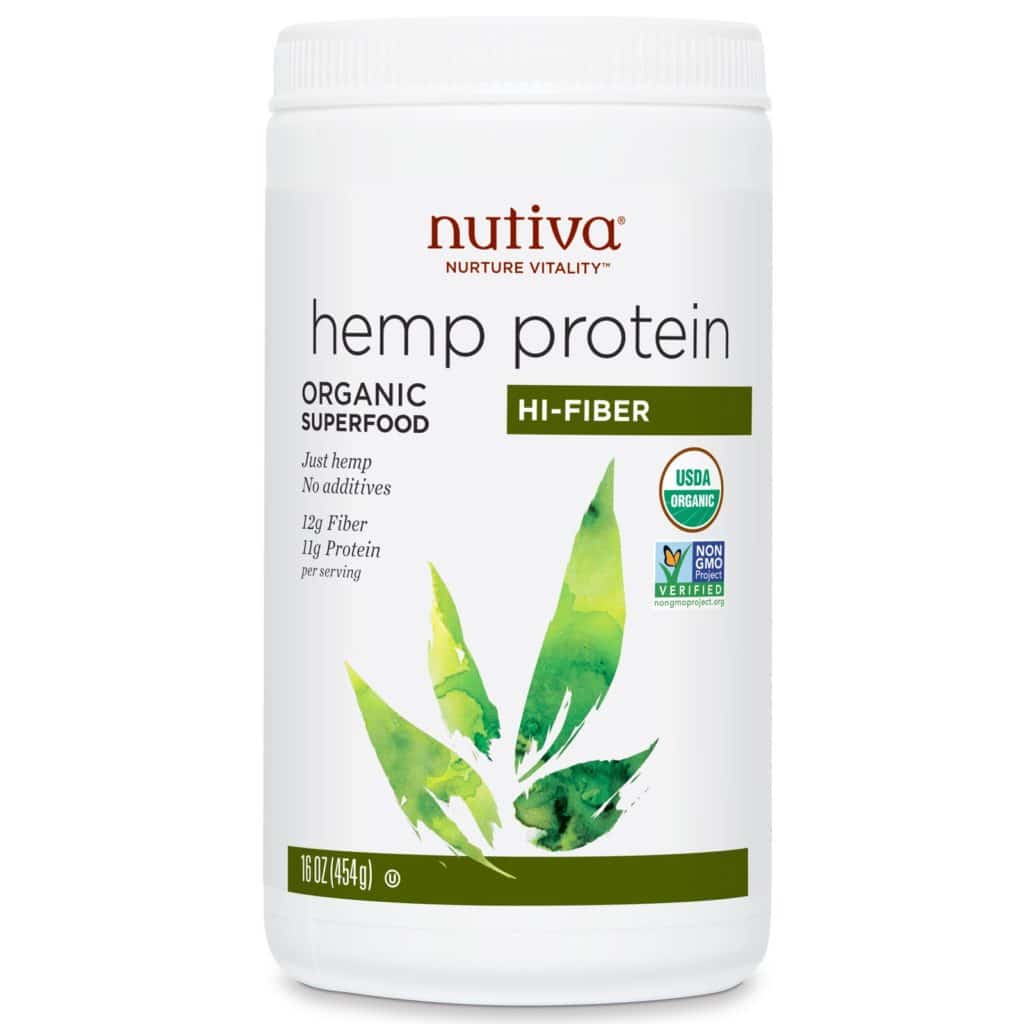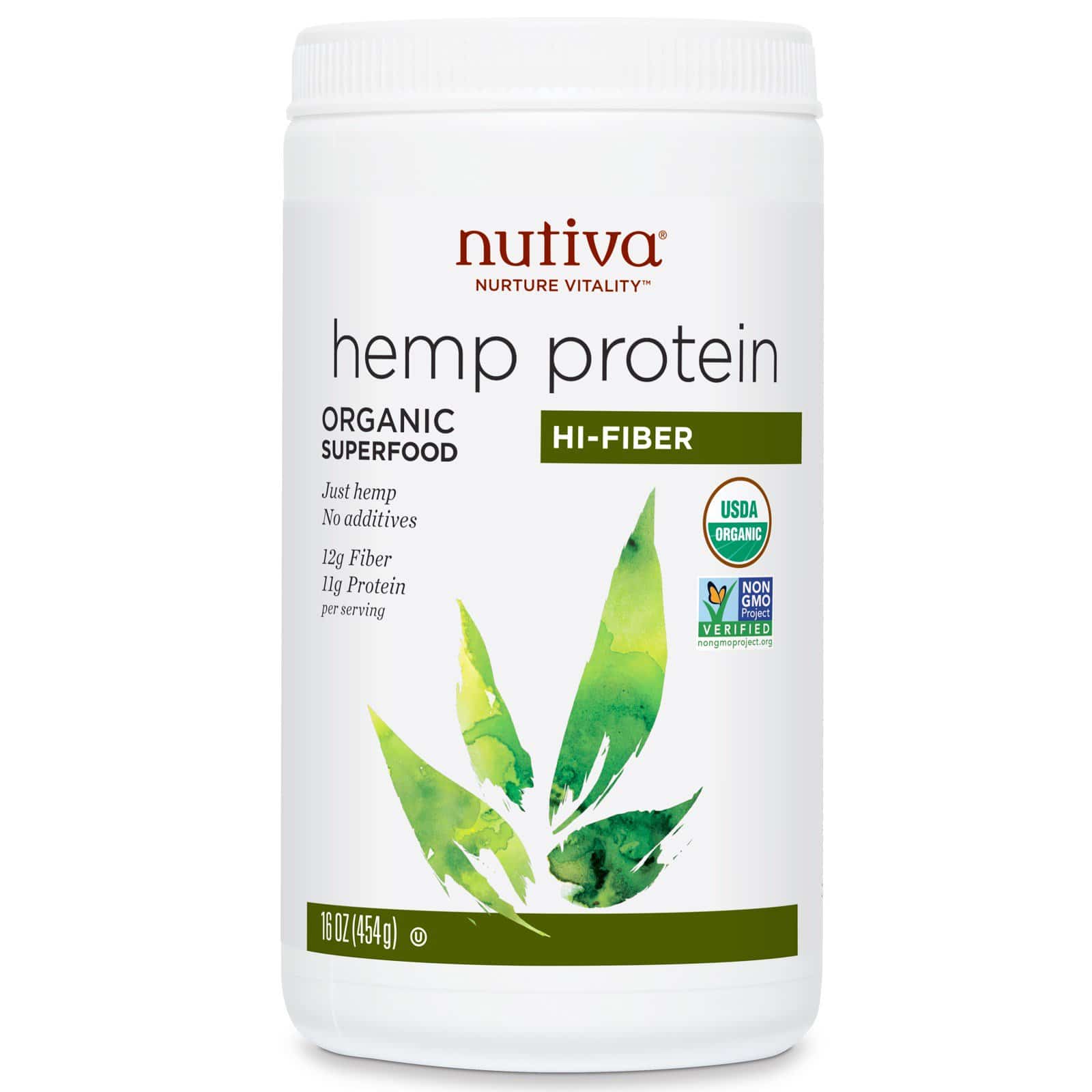 Whilst many like their protein powders to have delicious flavours, some like them unsweetened. Nutiva's Organic Hemp Protein is one of the only products on the market that has no additional flavouring. It is a blend of just one ingredient, hemp protein. This makes it a blend of all natural ingredients with no added sugars or artificial emulsifiers. 
Nutiva's aim was to produce an organic, raw and natural plant based protein that was easy to add to foods and drinks that did not change the flavour. They also had sugar conscious individuals in mind. This all natural low sugar blend makes it easy to add to any drinks without adding sugar to your diet. Plus, it adds an additional 15 grams of protein per scoop daily to your diet.
The protein powder is extremely low in both sugar and calories, with only 90 calories and 1 gram of naturally occurring sugars per scoop. 
Nutiva is one of the best selling plant based protein for the health conscious budget individuals. It retails for less than $20 per 450 grams.
8 – Cheapest Vegan Protein Powder: BulkSupplements Pea Protein Isolate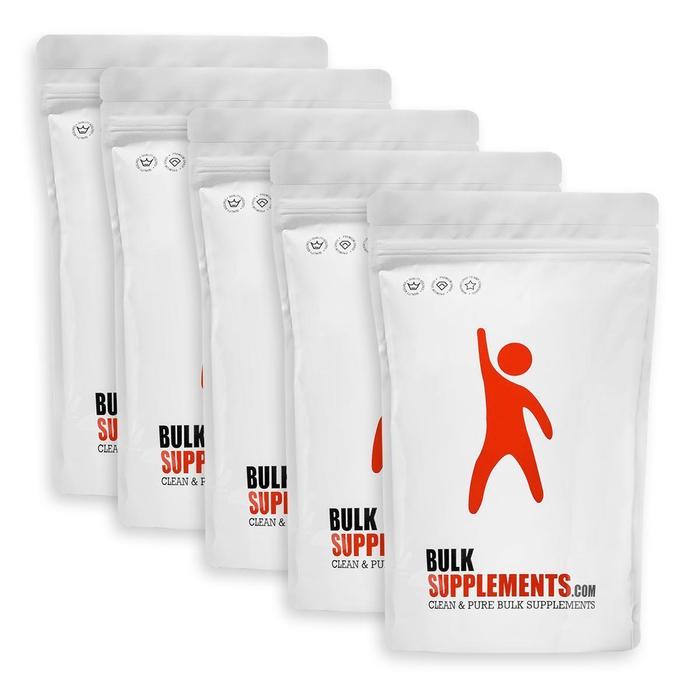 A cheap vegan product does not make it rank low on the list. In fact, the BulkSupplements Pea Protein Isolate exceeds some of the more expensive powders nutritional values. It is enriched with amino acids and for prime muscle building.
This plant based protein powder offers the same benefits other pea protein powders do for less than $10. It also promotes incredible nutrition with just 110 calories per scoop and 24 grams of natural protein. 
BulkSupplements unique selling point is that all protein powders are made from just one ingredient. The pea protein isolate is one of their best selling due to the amino acid profile. 
Currently, it is the best value for money. Other plant based protein options of Bulk Supplements include hemp, soy and rice. 
9 – Vegan Vanilla Protein Powder: Aloha Protein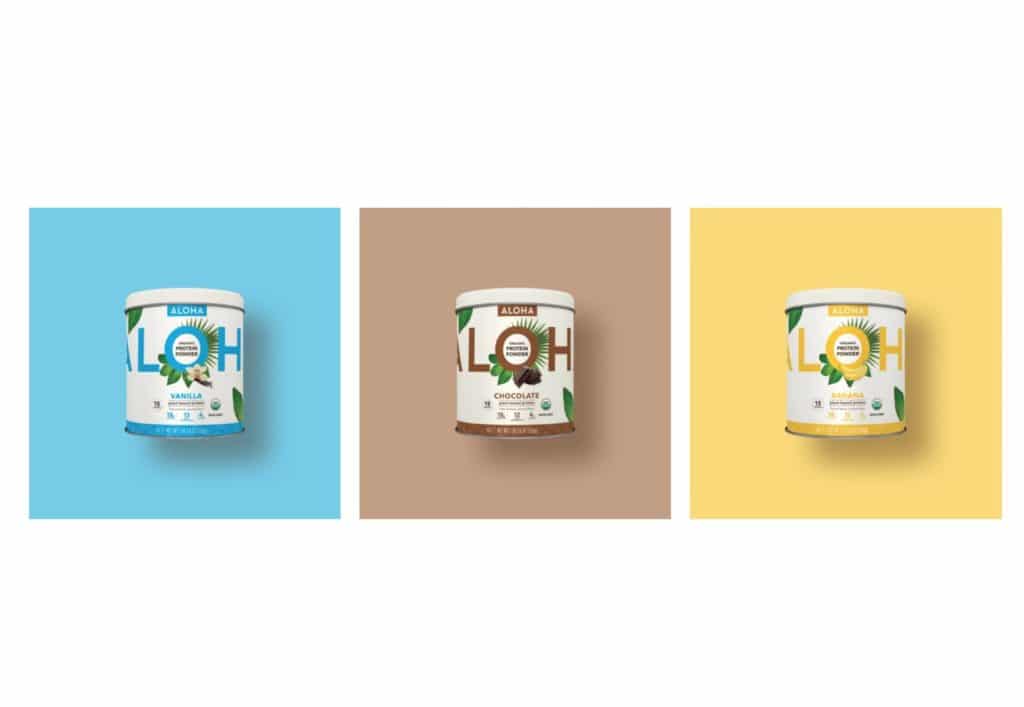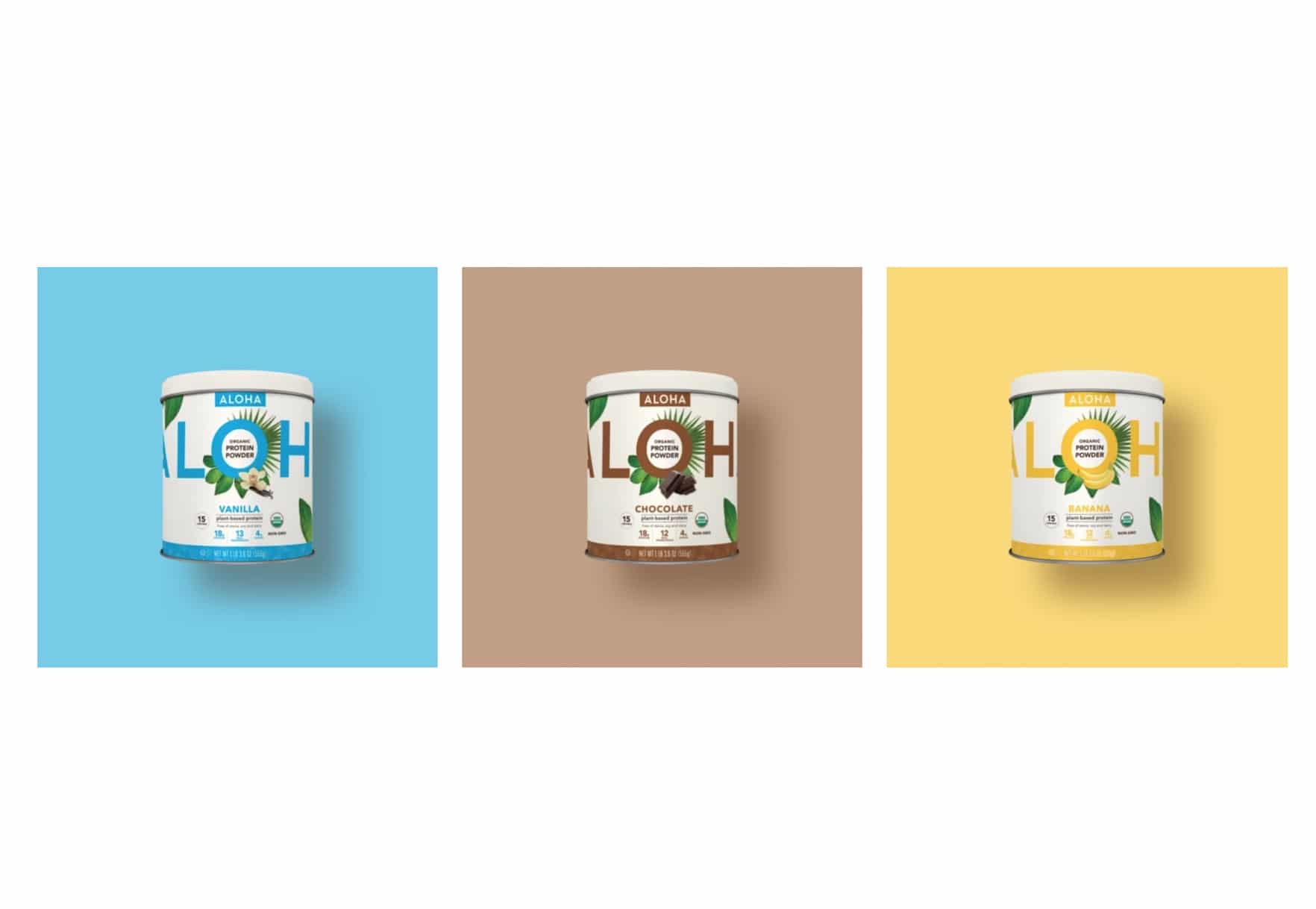 For those that like subtle sweet flavours that are all natural and organic, Aloha Protein is a stand out plant based protein powder. Aloha Protein's blend is soy free, non-GMO and free of artificial flavourings and sugars. Making it lower in sugar, carbs and only 120 calories per serving.
Each scoop offers 18 grams of organic vanilla protein. As it has a sweet natural flavour, it can be mixed with just water for those seeking calorie control. Or, it is easy to add into  smoothie, baking or with plant based milks for shakes. 
Aloha Protein is a USDA organic seal approved brand, meaning every ingredient is 100% pure and safe to consume. 
Their vanilla protein is sold for $30, giving you around 15 servings per tub.
Other great options for a flavoured vegan protein shake include Vega Sport Protein, also rated the best tasting vegan protein powder on this best 11 list.
Read more about Aloha Protein and an honest nutritionists review here. 
10 – Vegan Chocolate Protein Powder: Form Nutrition Superblend Protein Chocolate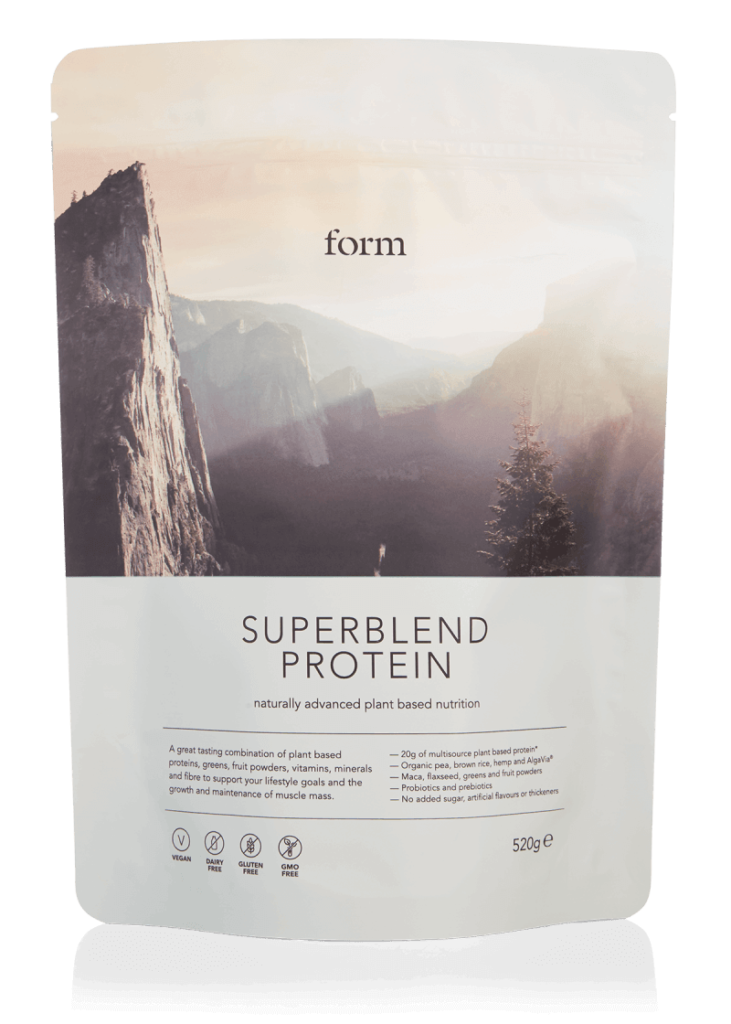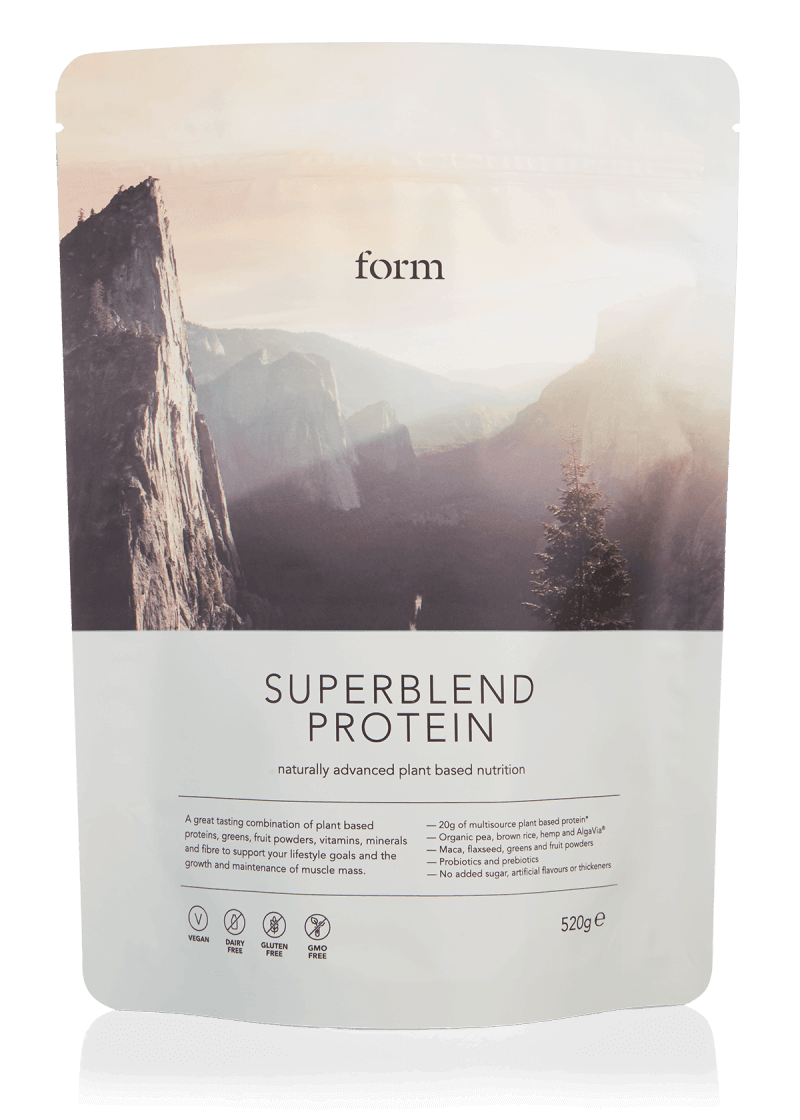 Anyone with a sweet tooth will without a doubt be a chocolate lover. So, why not get your chocolate fix with a plant based protein shake, smoothie or bake. Form Nutrition is an organic brand specialising in nutritious powders packed full of protein and flavour.
Their chocolate superblend is a top seller made from pea, brown rice, hemp and whole grain algae proteins. It packs an incredible 20 grams of protein per 40 gram scoop. Each  scoop offers 8 grams of fibre which is ideal for combating hunger and helping its consumer feel fuller for longer. This Superblend is suited for both men and women post workout to manage muscle strain and help repair and grow muscle mass. 
Form Nutrition uses a blend of these natural plant protein sources as they offer a maximum amino acid profile. The blend also contains maca and spirulina which is great for fighting stress and fatigue, which is ideal for a post workout drink.
It retails at around $30 per tub, which consumers can enjoy on a monthly discounted subscription basis. 
11 – Unflavoured Vegan Protein Powder: Healthspan Elite Complete Vegan Protein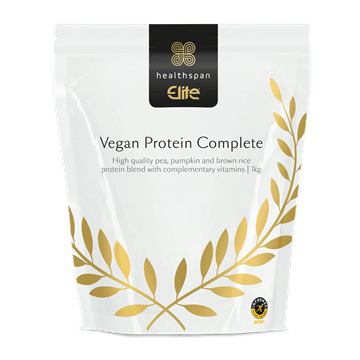 Unlike flavoured protein powders, there are a few unflavoured products on the market for those seeking a protein to add to other flavourful food and drink. For example, those who have aced a vegan smoothie recipe and want to add protein but not change the flavour, Healthspan Elite Complete Vegan Protein is ideal for that. 
Healthspan protein powders are rigorously tested and are verified as a high quality plant based protein blend, which is a great alternative for those seeking a vegan or non-dairy option. Each scoop offers 20 grams of protein. Its blend consists of pea, pumpkin and brown rice proteins with additional vitamins. 
The Healthspan brand sells multi vital blends for those with vitamin deficiencies. This blend is added to their protein powders, which is packed with 20 amino acids. An essential amino acid profile is ideal for protein powders to compete with animal protein in order to offer the consumer optimal repair and nourishment. 
If you wish to try the protein powder but want it sweetened, you can add a flavour for free if you wish to such as chocolate, strawberry and vanilla.
Healthspan Complete Vegan Protein retails at around $30 per 1kg, which is a very fair price for such a high quality blend.
Before deciding to try vegan protein powders, there are a few market debates you may have in mind which we will answer below:
Everything you need to know about Vegan Protein Powder
It is worth understanding if and why vegan protein powder would work for you. As there are many on the market claiming to provide the best results, it is beneficial to weigh up, debate and acknowledge the benefits. To follow are some things to consider.
Why choose vegan protein?
If you choose to go plant based, vegan or have food intolerances, vegan protein is the best substitute. Vegan protein powders in particular are the easiest way to consume protein and increase daily intake.   
Although vegan protein is not as effective as whey protein for muscle repair and gain, it does have a multitude of health benefits and is the best alternative for vegans. 
Vegan protein powders do work to build muscle and can have the same effect as whey, but with a bit more effort. Whey simply offers a quicker protein release. But with time and patience, vegan protein powders can work as effectively. It is all about choosing the right vegan protein with a high protein volume, amino acid profile and purity. The list above will help you decide if vegan protein powder is right for you and if so, which is best for you.
How to choose the best vegan protein powder for you?
First, you need to decide why you would choose a particular vegan protein powder. To make the decision process easy, weigh up which category applies most to you and your lifestyle. Whether it is based on price, flavour variety, protein quantity per gram or lowest in carbohydrate, choose a category that works best for you. Then, you can eliminate certain products and narrow down your choices.
For some it may be about trial and error. There is no harm trialling a few different options to find which works best for you.  
The best marketplace to purchase from is online at Amazon. There you will find all products listed above and more. It is a great way to introduce yourself to brands and find reviews from consumers of the products.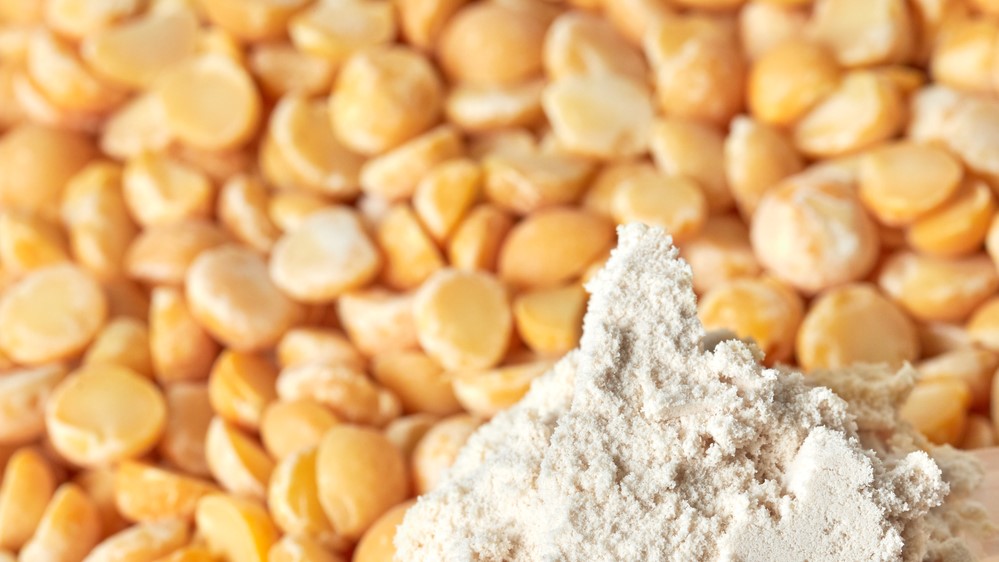 Is the best selling product the best product for you?
The best selling products are inevitably best selling for a reason. But, that does not mean they will be the best option for everyone. 
It is generally dependent on your preference, dietary needs and goals. 
For example, if the best selling product is a soy based product but you have an intolerance to soy, then that product would not be a great option for you. 
Thus, it is best to identify which is the best product for you by yourself. Everyone is different and what works for you may not work for others. 
Does the most expensive vegan protein powder mean it's the best?
The most common misconception is that the most expensive products are the best. For vegan protein powders, the most expensive is not necessarily the best. Again, it is different for each individual. 
The high price point of a vegan protein powder is usually due to the ingredients and their purity. If a vegan protein powder is 100% pure, it is typical that it will be more expensive due to the high quality concentration. 
Yet, do not doubt cheaper alternatives as they may work better for you. Or, they may contain ingredients that agree with your current diet and intolerances. 
What is the best way to use vegan protein powder?
The easiest way to consume vegan protein powders is as a drink. The most common serving size is a scoop. You can mix most powders with water or a plant based milk to make a shake. Or, add a scoop to smoothies. 
Vegan protein powders can also be added to bakes and/or sprinkled on top of food to add flavour and increase its protein quantity. 
Precautions for taking vegan protein powder
All certified vegan protein powders are safe to consume. As there are numerous competitors and new brands entering the market each year, it is advised to check they are legitimate vegan products. Always check labels and ingredients lists to ensure you are purchasing a genuine vegan product. 
Some may experience mild side effects of certain vegan protein powders. Pea and soy protein have the most reports for side effects such as bloating and stomach pain. Both can cause a buildup of gas and as a result of that, can cause these issues. 
There are no reports of serious side effects. But, if you do experience anything more extreme and/or persistent, do consult a doctor for a medical review and further advice.
With that in mind, let's take a look at the pros and cons of taking vegan protein powder:
Pros & Cons of Vegan Protein Powder
Like any dietary product, there are a few pros and cons to weigh up. This is a general overview of vegan protein powders as a whole and is not brand/product focused. 
| | |
| --- | --- |
| PROS | CONS |
| More ethical | Can be more expensive |
| Uses all natural products | Slower results |
| Contains no animal/dairy products | |
| Generally healthier | |
| Easier to digest | |
After weighing up these facts, you may have a few more concerns. Below are answers to the most frequently asked questions:
Frequently Asked Questions (FAQ)
What is the healthiest vegan protein powder?
There is not one clear winner for the healthiest vegan protein powder. All contain different calories, protein and carb content meaning there cannot be one winner. Most are healthy with them being free of sugar and saturated fat.
 
However, those that contain raw, organic and pure ingredients are the best for your body and these contain no harmful or artificial chemicals. 
Is pea protein bad for you?
Pea protein has had some bad press and because of that, many people misconceive pea protein to be bad for you. It is in fact one of the few that is lowest in calories and carbs. Most are made from pea isolate meaning they are 100% pea concentrate. 

Pea protein promotes many anti-inflammatory health benefits to help with chronic diseases, kidney conditions and depression. 
Can you build muscle with vegan protein powder?
Research has found that vegan protein is just as beneficial for muscle gain than its counterpart, animal protein. Although vegan protein has less protein per gram, it works in the same way non-vegan protein does. 
Why does vegan protein powder make me gassy?
When protein is consumed, vegan or not, it transfers into the small intestine as amino acids. This then disperses to the blood, muscles and bones for repair and strengthening. If too much protein is consumed, the excess will transfer to the colon and cause gas.

Some plant based foods such as grains, legumes and beans can naturally cause a build up of gas. As well as that, some vegan protein products contain artificial sweeteners such as sorbitol, which is known to cause gas. Watch out for these. 

It is common to experience gas from all protein sources, plant based or not. Gas caused from protein is not considered dangerous, just more of a recurring irritating problem.

To avoid this, it is best to buy organic and pure vegan protein powders as these will not contain any flatulent causing ingredients. 
Is vegan protein as good as whey?
When vegan protein and whey protein are weighed up for their efficacy, whey protein does exceed. But only slightly. This is because whey naturally contains more BCAA's than vegan protein ingredients. BCAA's are branched-chain amino acids which are found in animal produce protein such as meat and eggs.  

However, vegan protein does come close and can be as effective as its opposition. Consumers of vegan protein powders simply need to consume a slightly higher dosage to attain the same BCAA content. 

Vegan protein has less side effects than whey protein, such as less gas and less artificial ingredients. Thus, concluding that each have their own positives.
Is plant based protein powder bad for your kidneys?
Plant based protein is known to be beneficial for chronic kidney conditions. According to the American Journal of Kidney Diseases, vegans have a lower mortality rate amongst kidney disease patients. 

After being diagnosed with chronic kidney disease (CKD), patients are advised to cut animal products from their diet. This is considered to be due to animal product, especially meat, causing intestinal phosphorus which damages the kidneys. 
Is it ok to take protein powder everyday?
The average adult needs a certain amount of protein daily. The quantity changing depending on body weight. Thus, it is safe to take protein powder everyday if you need to meet that goal. 

It is important to maintain a healthy balanced diet and regular exercise routine to consume excess protein or a high amount. This is due to some protein powders being high in calories. Without the correct lifestyle, it can cause weight gain.
Is vegan protein powder good for weight loss?
Vegan protein powder has proven to be a great tool for weight loss. Alongside a regular exercise routine, it has amazing benefits. It is typically lower in calories than whey protein, making it a good choice to consume less calories per day. 
Which vegan protein powder source is best?
While there are several sources of vegan protein powder, the best is pea protein. Pea has been proven to have the biggest effect on people since has the highest protein count per quarter cup.
How long does it take to digest vegan protein powder?
Results vary with different people. However, on average it will take between 20 minutes and 8 hours to digest vegan protein powder.
How long does vegan protein powder last once opened?
Since it is a low-moisture food, vegan protein powder will last for about 12 to 14 months.
Conclusion
Consuming vegan protein powders is an optimal and simple way to increase protein intake on a vegan diet. Often, vegan diets can lack essential protein and vitamins due to lack of animal produce. But, this can easily be changed with a protein powder. 
Vegan plant proteins such as beans, grain and legumes are an effective and sustainable protein source for those who choose a vegan lifestyle. It is also ideal for those with a dairy intolerance or other allergies. 
Plant based protein substitutes can be as effective as traditional animal protein, as it can offer essential amino acids your body needs for muscle, bone and blood repair and growth. 
Some plant products offer more health benefits than animal products. Many are considered to be healthier for the body as they are easier to digest and contain no harmful fats, chemicals and toxins. 
The most common vegan protein options are soy, hemp, pea and rice. All of which are natural protein sources which offer additional health benefits. Ultimately, there is no reason not to try a vegan protein powder and choose it as your primary source.
If you have any more questions or feedback about vegan protein powders, feel free to share them with us.