I remember that when I was younger my grandmother used to tell me to never trust someone who can't look at me in the eyes and I agree.
I believe eyes are a reflection of who you are, and they can give a perception of how you are feeling as well, you can sense a lot about someone's personality when you look into their eyes.
It is also true that men and women find eyes attractive and, if you think about it, when you are meeting someone, the first thing that usually creates a "connection" is by having eye contact, they are key to make that first impression.
Even though not all of us are born with the perfect eye shape and often we go through things like not enough sleep, dehydration or we spend long hours in front of electronic devices that make our eye area look tired and unhealthy.
There Is always a way to create the best version of ourselves by applying some basic tips with and even without makeup. 
How to make your eyes look bigger without makeup 
The goal is to create the best version of yourself and having bigger and brighter eyes will make you stand out, you will look healthier and even younger. 
To achieve this naturally, you have to take into consideration other areas of your face that are in balance with your eyes the center, and focal point. 
Here are the areas that I consider important to create a nice frame and make your eyes pop and why:
Brows
Making sure you have your brows on point, well-groomed, and defined is key to create the perfect frame for your eyes. You can do simple things like brushing them upwards every day (you can use a clear mascara to make sure the hair stays in place during the day).
Giving them a nice shape by removing extra hair in the areas where is not needed and making sure you don't overdo it leaving your brows thin and without definition. 
Under Eye Area
When it comes to brightening and taking good care of this sensitive area is a never-ending topic but it is important that you take the time and care and you add extra steps to your routine to improve this area with time. 
The first and most basic thing is rest, try to sleep well and good enough if you don't want to get puffy and sore under eyes. 
Using the right skincare products for this particular area is so important. I suggest you have a day and night cream that helps you prevent getting lines, decrease puffiness and helps brighten this area. You can also use eye masks during the week and/or before going to a special date to boost hydration and add freshness to this area making it look radiant and healthier. 
Lashes
Curly lashes equal bigger and healthy eyes, lashes open up the eyes. I will explain what's the right way to curl them later in this article so continue reading if you want to know more details. 
Notes to take extra care of your eyes
Use eye drops if you experience red, tired eyes. 
Apply natural home remedies such as using a chamomile tea bag to de-puff or slices of fresh cucumber to brighten and refresh before going out.
How to make your eyes look bigger with makeup 
Let me tell you that the well known "no-makeup makeup" technique and  highlight + contouring techniques can also be applied to create bigger and brighter eyes :
The good part is that you don't have to spend hours to achieve the desired shape for your eyes. Remember that the goal is to create a natural look by enhancing the areas around the eyes that I just mentioned before.
Adding some makeup to the equation helps to achieve the goal that we want. With makeup, we will highlight the areas needed and add definition to create the perfect shape for your eyes.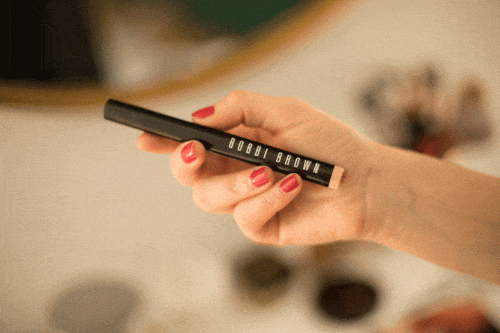 Here are the 8 recommendations for men and women to create bigger eyes with makeup:
1. Define your eyebrows
As I mentioned before, brows will give a nice frame to your eyes but to do so, you need to make sure they look naturally defined. You can use a pencil, a gel, or brow mascara with pigment to define your eyebrow shape.
An important thing you might consider is to bring the tale of your brow more towards your ears instead of going down for a lifting effect. 
→ Read more about how to groom and how is the best way to shape your eyebrows
2. Conceal your under-eye area
After applying your moisturizer, day cream, and/or eye mask you want to focus on brightening this important area, and for this, applying a long-lasting concealer that doesn't crease is key.
If you have really deep dark circles you may want to look for a peachy tone to cancel out the purple undertones and then apply a color that is one or two tones lighter than your skin.
You must consider setting your concealer by applying a loose setting powder afterward. I recommend using a soft blending brush to apply just the right amount and blend if necessary. 
3. Highlight
Choose a light eyeshadow or shimmer to highlight your brow bone which will create a lifting effect, your inner corners for brightening that area, and to the center of your eyelids to open up your eyes.
4. Contour your crease
To give a nice dimension to your eyes, use a natural shade and apply it to your crease with a fluffy blending brush. Your crease has a naturally darker shade than your eyelids already so the goal is to enhance that shadow a little bit more.
Blend the eyeshadow out towards the tail of your brows for a natural finish. If you want to get creative or achieve a much more dramatic eye you can also add a darker eyeshadow to the corner of your eyes for length. 
5. Brighten your waterline
Using a pencil in a light shade like a beige, apply it carefully into your lower waterline, this will cancel out any redness and create an amazing brightening effect.
6. Define your lower lash line
Using the same eyeshadow you used for your crease, apply a thin line on top of your lower lash line going from the outer corner towards your inner corner. This line will create the perfect balance and help to achieve a bigger eye effect. 
7. Curl your lashes and add mascara
This step is a must to add length and open up your eyes, continue to read below to learn how to curl your lashes like a pro. 
8. Cheekbones
Believe it or not, enhancing your cheekbones will also help to frame your eyes creating the perfect balance with your brows to focus all the attention on your eyes. You may use a neutral color for this and then apply a shimmer on top of your cheekbones to create an extra glow. 
How to use eyeliner to make your eyes look bigger
Here are the 4 rules to follow to use eyeliner properly to makes your eyes look bigger :
1. Don't apply liner all around
This will make your eyes look smaller and heavy. 
2. Go for a thinner liner
Because the goal is to open up your eyes, start by drawing a very thin liner following your upper lash line. 
3. Wing it to add length
If you want to add an extra-length effect, you can wing your eyeliner going towards the very end of your brow tale. 
4. Try not using darker shades in your lower lash line
Instead, use browns and neutral colors to make create a much more natural effect. 
How to make your eyes look bigger without fake eyelashes
Lashes create a big difference when they are nicely done, this doesn't necessarily mean that you have to wear fake lashes or magnetic eyelashes to make your eyes pop. In fact, I don't love wearing lashes on myself because my eyelid is smaller and instead of making my eyes look bigger, they look heavy and tired. 
The key is to achieve a good curl technique and have a great lengthening mascara to back you up during the day to maintain the lashes on point. 
To curl your lashes, I recommend dividing your lashes in 3 sections and start by curling in the base, then move to the center and finish curling at the top. 
Then, I recommend doing the same with your mascara and start by focusing on your base, then following up to the center and finishing at the top of your lashes doing a slow horizontal motion with your mascara wand going upwards. 
If you want to add extra lashes, I recommend choosing the individual lashes and apply them from the outer corner towards the center of your eyes without going all the way in. 
For this, I recommend curling your lashes first, then applying a thin coat of mascara focusing on the base of your lashes, then apply the individual lashes, and after they are dry add an extra coat of mascara for extra length and volume.