After a workout, a long day at work or a stressful event, your body can feel particularly tired and drained. One of the most important things to keep you in check is to keep on top of your nutrition intake, especially foods that will give you energy and repair your body. 
Protein powders quickly overtook the fitness industry due to their ability to regenerate and re-energise the body. They are particularly popular for regular gym goes as they are mainly used to repair and grow muscles after working out. For a long time, protein powders were only suitable for those who eat meat. Now, there is a whole range of alternatives, including life's raw organic protein powder. 
Pea protein supplement comes in powder form and is a big hit in the fitness industry due to it being available as a diet supplement for all, as it works with almost any diet. Most are all natural and are suitable for vegans, gluten and dairy-free diets and in today's ever-growing complex diet industry, that is a key selling point. 
There are many in the market, some good and some bad. Today, you will find out some of the best pea protein powders in our top 10 roundups and why they are beneficial for you. 
Also have a look on our List of best plant-based protein powders
Background of Pea Protein Powder
Protein supplements, shakes and smoothies are a great way to repair your muscles after exercising. Some also have many other health benefits, which you will find out here today. 
Protein of any kind can be used post workout to aid muscle growth, weight loss and heart health. Pea protein in particular is a powerful and high quality protein source and is known to be rich in iron. Using pea protein pre or post workout will provide you with energy and will help gain muscle mass and repair your body for the next workout. 
Pea protein powder is made by extracting the protein from peas, usually yellow or green. Once the peas are dry, they are ground into a fine powder. The starch and fiber is then removed which leaves behind a concentrated protein substance, known as pea protein isolate. 
A highly respected study from the National Institutes of Health showed that pea protein powder does not contain any of the top 8 food allergens such as peanuts, eggs, fish, tree nuts, cows milk, shellfish, wheat and soy. It is ideal for vegetarians and vegans, as well as many other diets. 
Yellow peas in particular contain a sustainable amount of protein. The pea protein isolates that are now being made by an ever growing amount of brands, are quickly becoming a plant-based alternative to meat protein powders that are not suitable for certain dietary requirements, like vegetarians and vegans. 
Peas are a great source of protein and have been used as a protein source for many years. They also hold many other highly nutritious properties and have many health benefits which you can read about in our article about the health benefits of green peas. 
With so many pea protein powders on the market it can be hard to find which is best for you. So we've got a roundup of the 10 best ones:
The 10 Best Pea Protein Powders
Here is our Nutritionist's Top 10 pea protein powders brand to help you choose the best for you :
1 – Naked Pea protein powder: the best vegan protein isolate [5/5]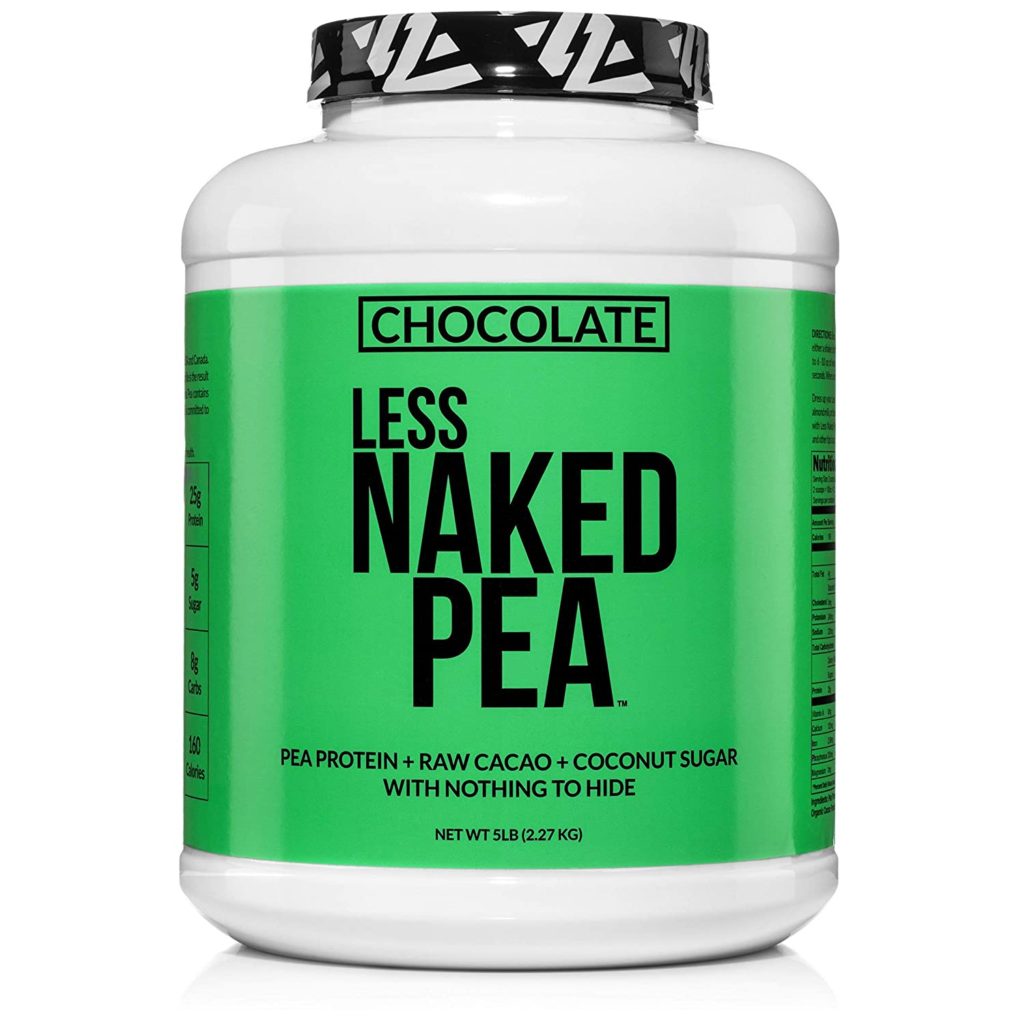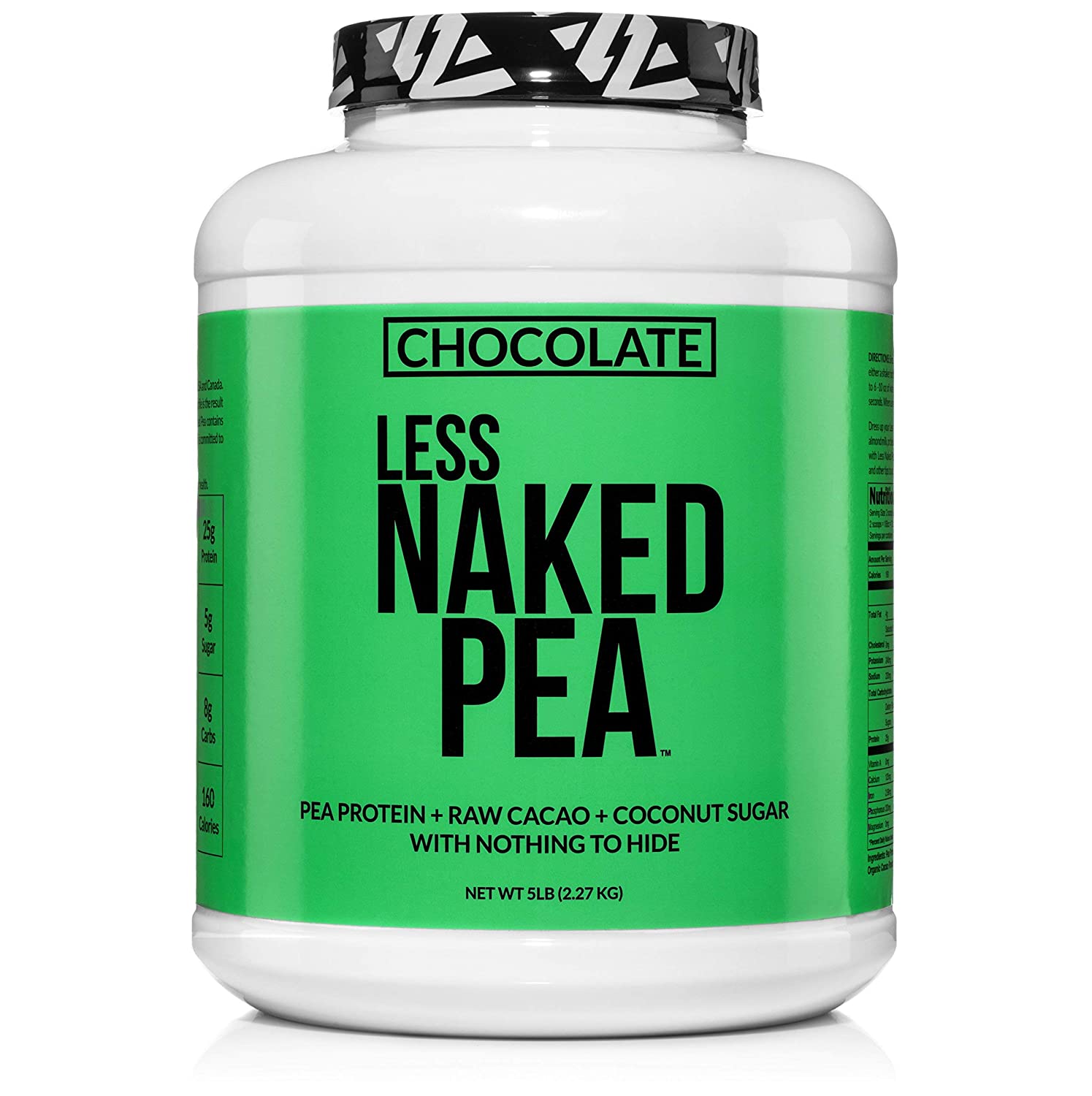 Naked Pea has been reviewed as one of the best selling and most successful pea proteins ever on the market. This is because it is made only from one ingredient – yellow peas. It is made from 100% pea meaning it is 100% isolated, making it one of a very few to manage to make this recipe and make it successfully. 
It has no artificial flavours, sweeteners or added sugars which makes it ideal for adding to any drink or dish. 
There is 27 grams of provided protein per serving with very little carbohydrates or calories. 
With there being only one ingredient, the product will not make you feel bloated but instead, it will provide you with a lot of energy and muscle repair. This makes it ideal for consuming pre and post workout. 
2 – Aloha Protein : the best organic powder [4/5]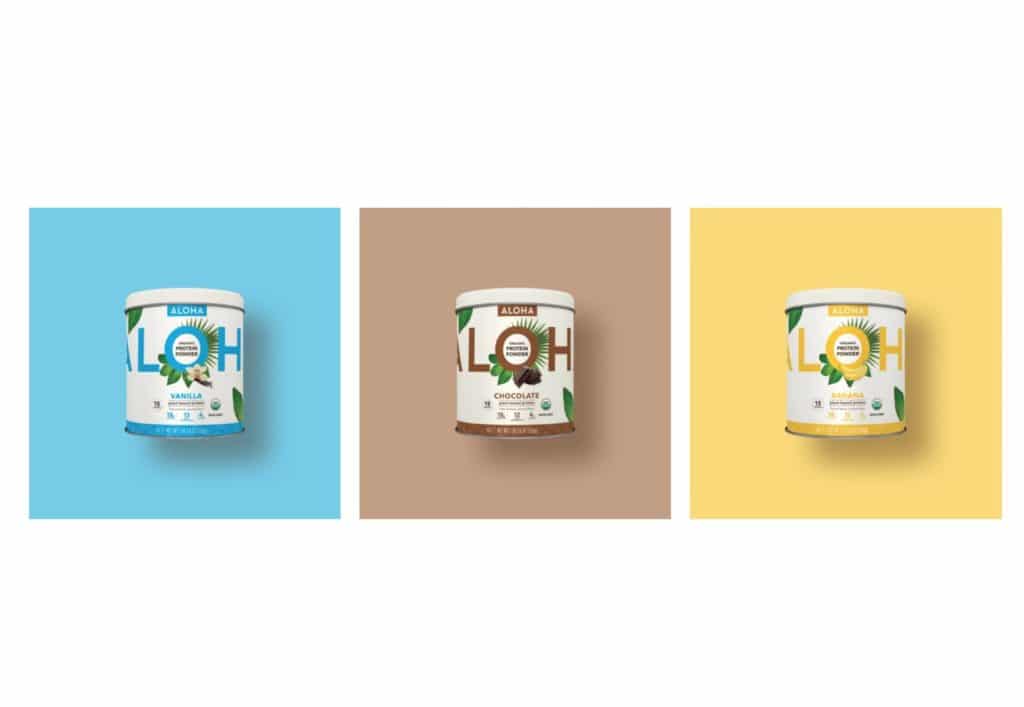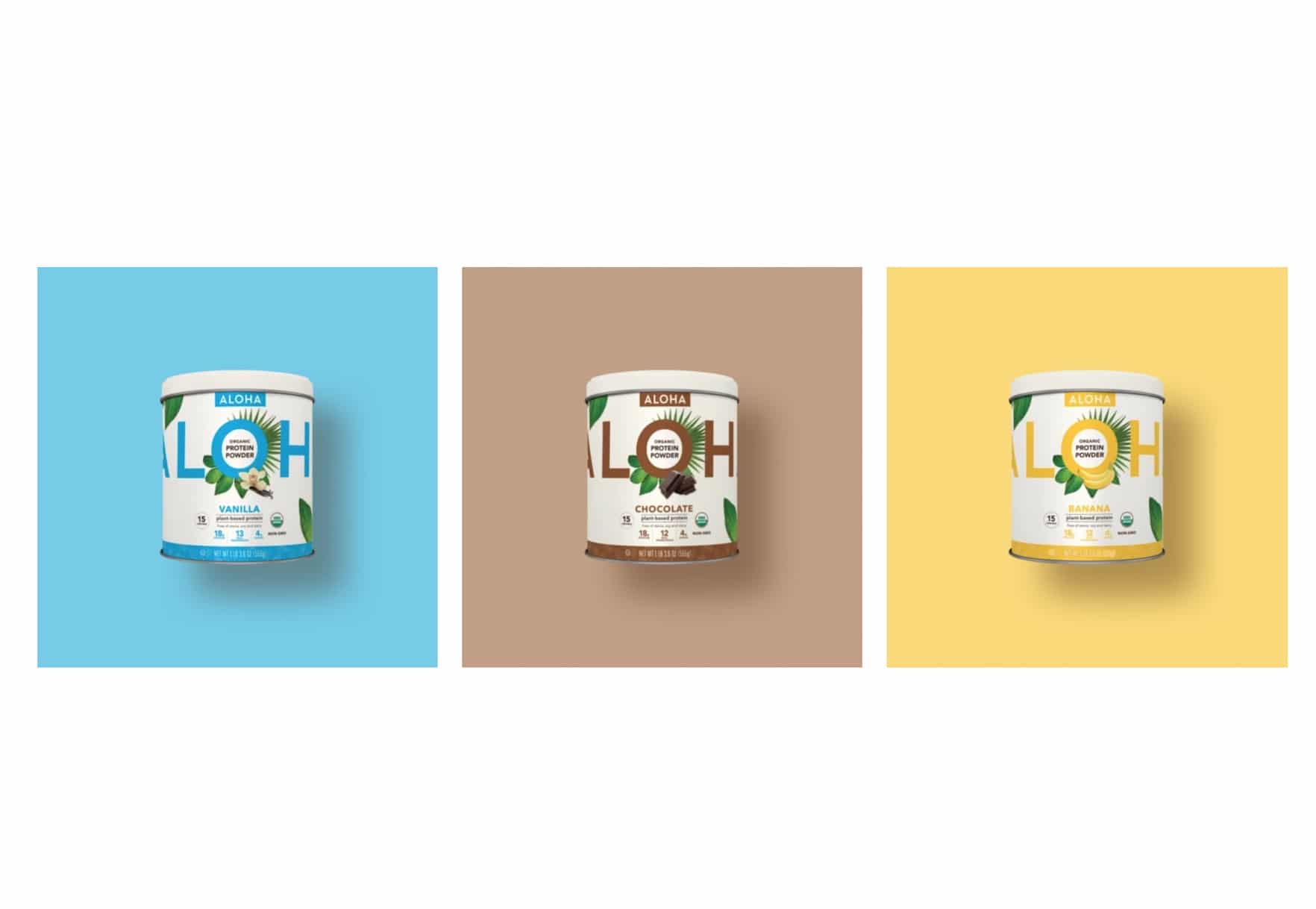 Although most pea protein powders are organic, Aloha Protein is made from 12 ingredients. All of which are organic and amazing for the body to repair the muscles and it holds many other benefits.
Due to its custom vanilla flavouring, you can add it to just water. This means your calorie intake will be lower than adding it to a smoothie, which is a great benefit for those looking to lose weight whilst gaining muscle. 
If you enjoy the protein and want to buy it in bulk, Aloha Protein offers a buy two get the third free policy. A great money saving tip if you want to be a regular consumer. 
The powder does also come in two other flavours. The original is vanilla, and recently they added chocolate and banana flavours. Great for those who like to change up their protein powders now and then. They are also great flavours to add to smoothies and shakes. 
Read more about Aloha Protein Powder here
3 – Source Naturals Pea Protein : the most iron efficient [4/5]
Source Naturals manufacture their pea protein powder from their farm, meaning it's all natural and organic. 
The manufacturing process involves isolating the pea product and making the protein powder into an isolate. This means it contains a high amount of natural yellow pea protein. Peas and pea protein are a great source of iron, which can aid muscle growth, repair muscles and improve heart health. 
This pea protein is very well priced at around $15, great for those who want to trial it or keep their budget low. 
The packaging is a huge plus as it is zip lock sealed. It's not bulky so you can carry it around with you to the gym, work or on the go. 
4 – The Vegan Genius Pea Protein : the best tasting [5/5]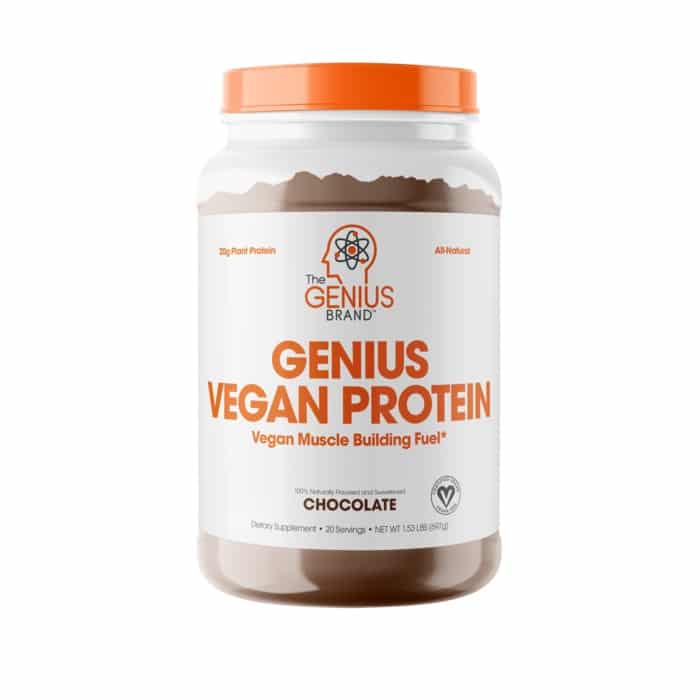 This new vegan protein powder to the market is powered by two key vegan friendly protein sources, peas and pumpkin. Both are a great source of protein that can be made into a protein powder. 
The combination of protein sources and its added flavourings means it has amazing flavour. Reviews state it offers a smooth and creamy blend, making it great and exciting to drink. 
One scoop contains 20 grams of protein and as it is so full of flavour, you can add this to just water to gain the most protein benefits. Alternatively, you can add it to a smoothie or shake for a more substantial drink. 
5 – NOW Foods Pea Protein : the best appetite suppressant [4/5]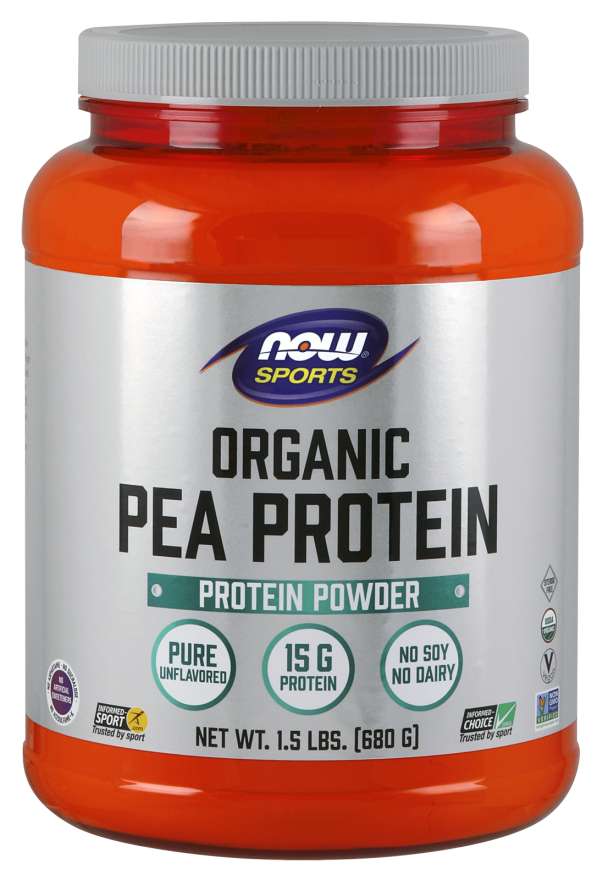 Pea protein moves your hunger hormones in the direction you need them to, which helps you fight hunger and also feel more satisfied after a meal. NOW Foods Pea Protein is a great appetite suppressant due to its high nutritional content. The high protein and amino acid content helps lower your ghrelin so you don't feel hungry unnecessarily. The powders contents also boosts your cholecystokinin (CCK) which helps you feel satisfied after eating, or even after consuming just a protein drink. 
Each scoop provides the body with 24 grams of protein and has over 4,200mg of chain amino acids which are great for improving your metabolic rate. 
NOW Foods manufacture only non-GMO products. The pea protein is free from soy, dairy, artificial sweeteners and steroids. 
It comes in a variety of flavours from unflavoured which is great for adding to drinks as well as food, to vanilla, chocolate and toffee.
6 – Vega Sport Pea Protein : the most premium protein [5/5]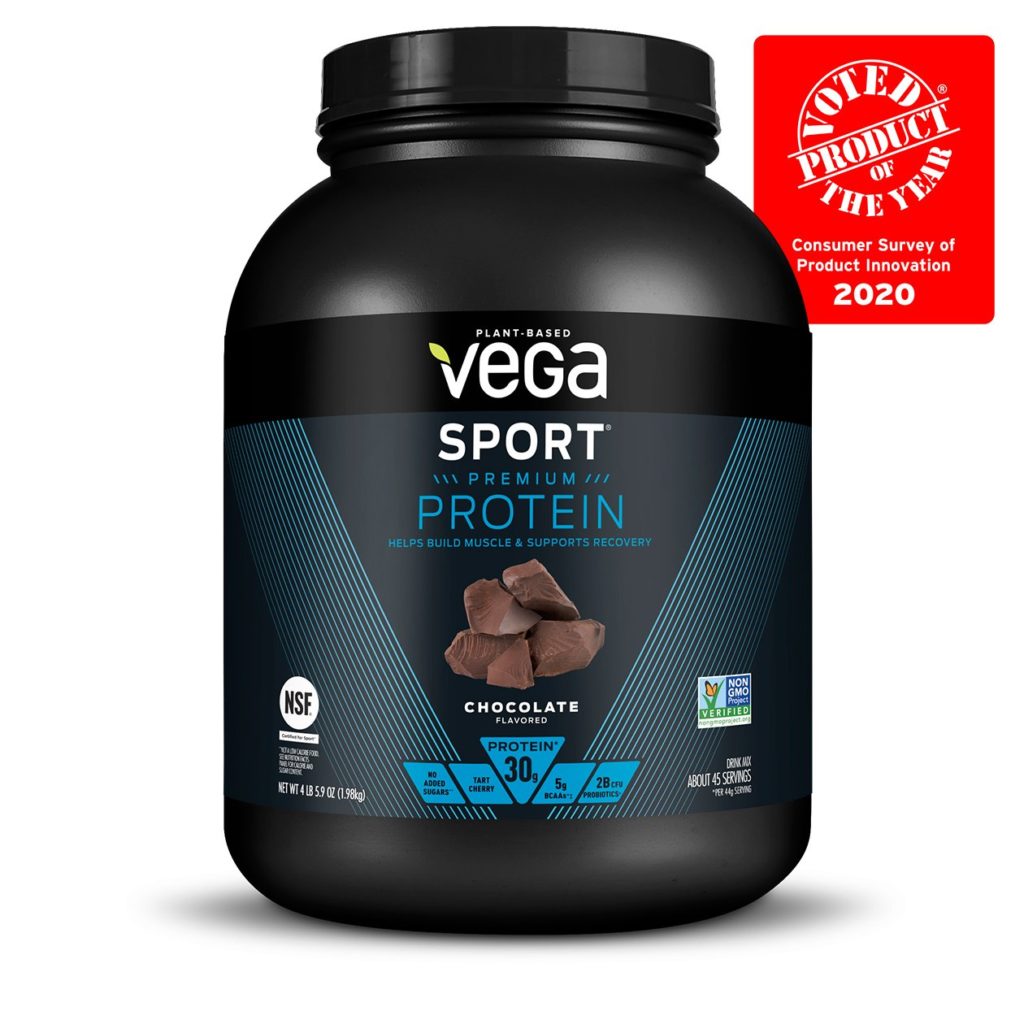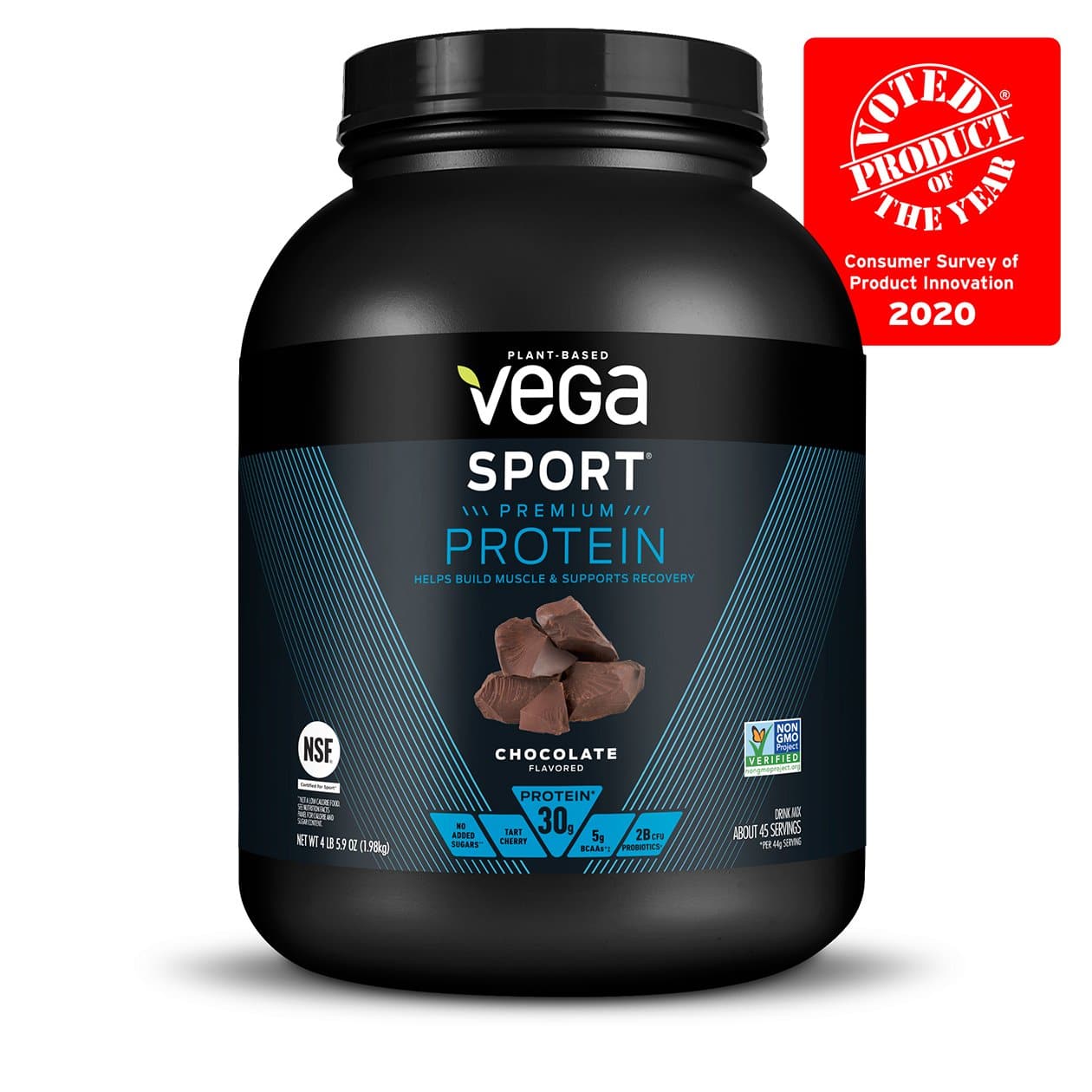 Vega Sport as a brand makes high quality products and ingredients. Their pea protein powder contains probiotics, organic coffee fruit, premium oils, omega fatty acids and more premium ingredients, which is the reason for the high price. It costs around $40 per container. 
One scoop contains 30 grams of protein, which is more than any other pea protein powders. Another reason behind its premium value. 
It is one of the only protein powders with almost zero grams of carbohydrates. This is a great benefit for those looking to lose weight. 
Vega Sport Pea Protein comes in two forms, as a powder or as a bar. So you can either enjoy it in a drink or as a snack. The most popular product is it's powder due to it being diverse and easy to use in many ways. 
Have a look on our Vega Sport Protein review here
7 – Bob's Red Mill Pea Protein Powder : the most versatile pea protein [4/5]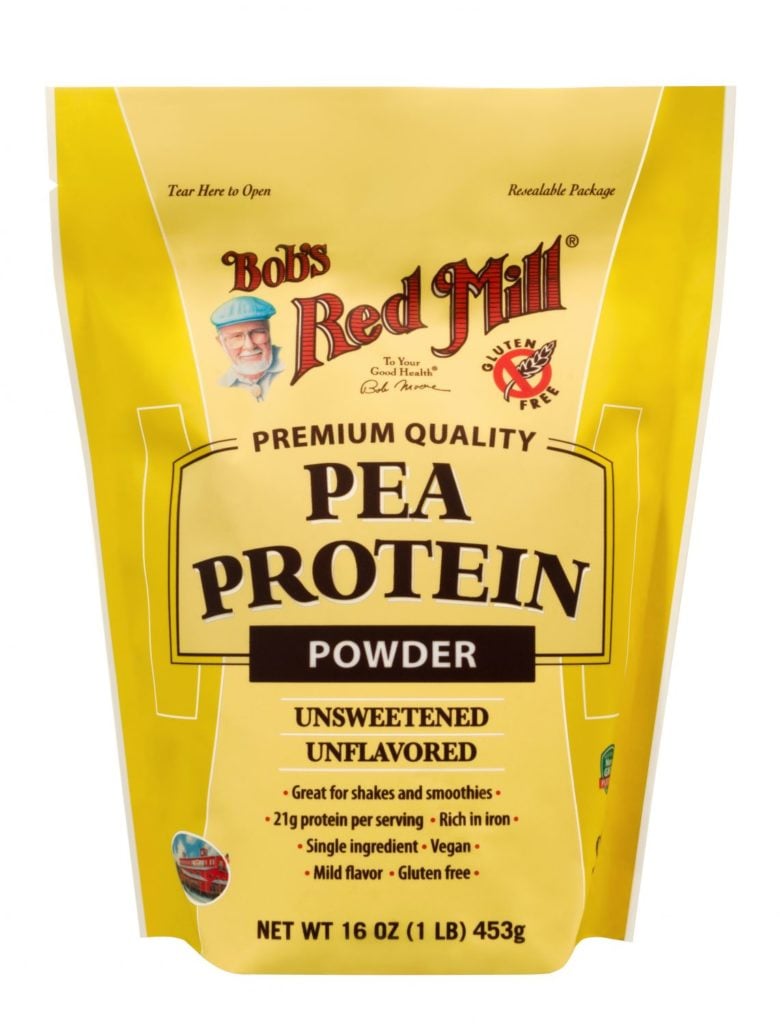 This pea protein powder has a mild flavour which makes it a great versatile product to be able to add into almost any food or drink. The lack of flavour means you can even add it to savoury dishes and not find a strange taste. Add it to typical smoothies or shakes, or be adventurous and add it to your pastas, sauces and more. 
There is 21 grams of protein per scoop and is completely sugar and soy free. 
It is manufactured directly from Bob's Red Mill traditional stoning mill. This means there are no chemicals added during the making process and they make their powder from raw yellow peas, like most other popular pea protein powders.
8 – KOS Organic Protein : the best for the digestive system [5/5]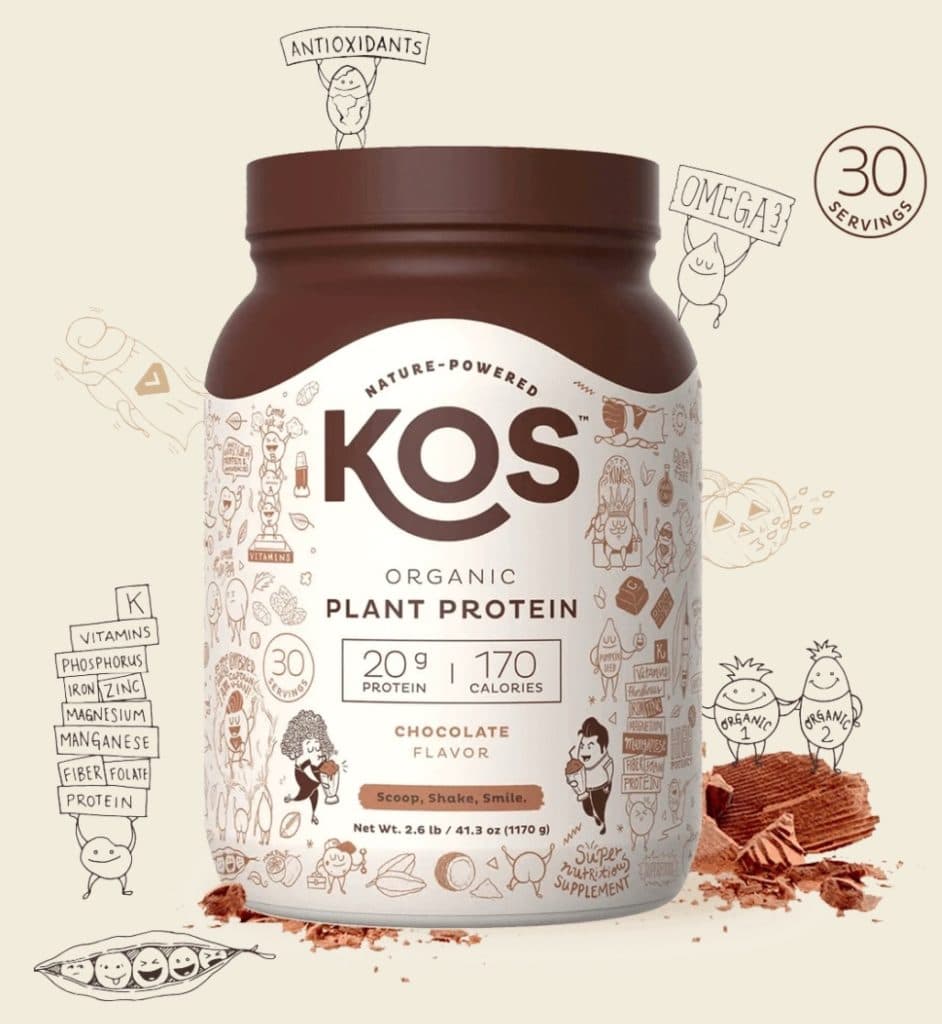 KOS Organic Protein is a pea protein with other added ingredients such as chia seeds, flax seeds, pumpkin seeds and quinoa which are all great for the digestive system. These digestive enzymes make KOS stand out amongst other competitors. Many protein powders can be hard for people to digest, whereas this formula is great for breaking down carbohydrates, fats and protein into smaller molecules for easy digestion. 
Easy to digest powders are best post workout and for those who want to bulk, as they won't make you feel bloated so you can continue to eat the meals necessary for bulking.
There is a lot of flavour in KOS Organic Protein which means you can just add it to water instead of a more filling drink. It comes in chocolate flavour which is ideal for those looking to curb sweet cravings. 
9 – Bulk Supplements : the easiest to take on the go [4/5]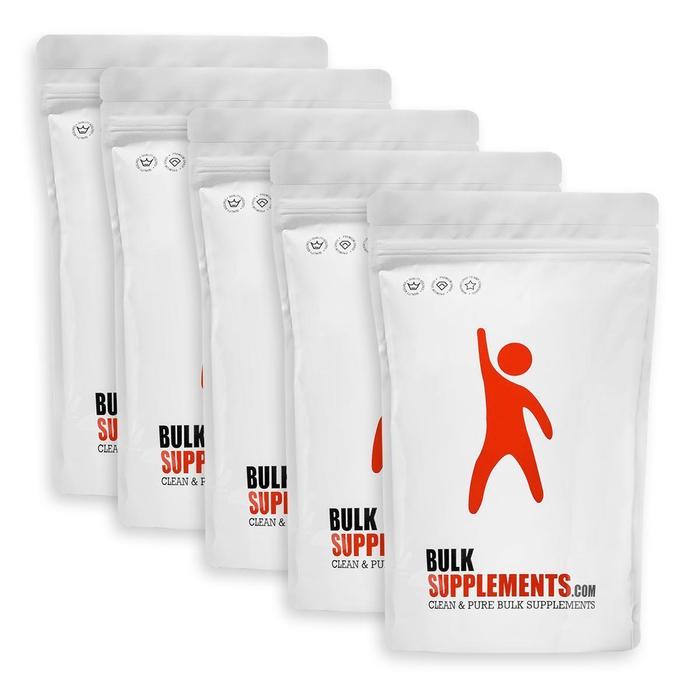 This comes in a factory sealed foil zip pouch which is easy to take on the go. Whilst most protein powders come in large plastic containers, this comes in a foldable easy to carry pouch. It's easy to slip into your bag or even your pocket. 
It is a pea protein isolate and it is made with the Pisum sativum species of pea, the green pea. 
Available in multipacks or discounted when bought alongside other Bulk Supplements products. 
10 – Body Nutrition Gardenia Protein : the best to cook with [3/5]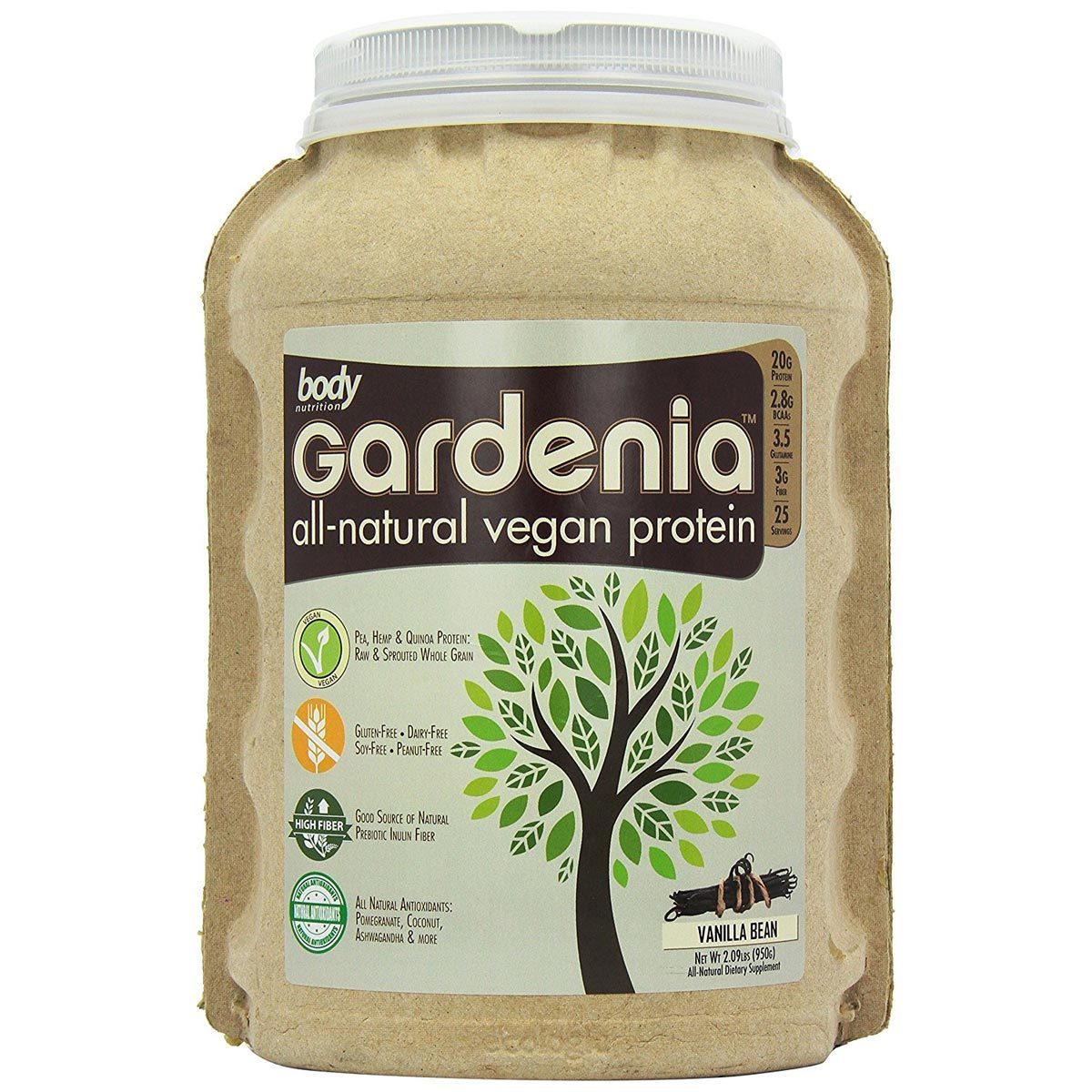 The mocha flavour is great for smoothies and shakes as well as putting into your cooking. You can add this to baking your favourite brownies or making a breakfast granola. 
There is 20 grams of protein per scoop, providing you with a great energy resource that will help recover your muscles.
Full spectrum amino acid profile which works well alongside protein. The protein profile recovers and builds muscle, whilst essential amino acids work to boost your metabolism. The two go hand in hand for a healthy balanced diet and is ideal for weight loss. 
Now we've rounded up the top 10 pea protein powders on the market, let's take a look at how to distinguish the best one for you and what to consider before buying:
Value Editorial and Buying Debates
How to choose the best pea protein powders for you 
Whilst most pea protein powders are suitable for all dietary requirements that does not mean all brands are suitable. For example, most pea protein is free from sugar but some brands may manufacture their pea protein powder in a different way and it may contain sugar. All pea proteins from our top 10 list are free from sugar, but if you buy from a brand not listed here, make sure to check the ingredients list, especially if you are buying one in the hope that it is completely sugar free.
Dietary requirements or diet preference is one of the main reasons pea protein has been a big success. Therefore if you are purchasing a particular pea protein powder due to its ingredients list and to avoid certain allergens, make sure to choose one that suits your needs. 
All protein powders are good at suppressing appetite due to the protein content, which is ideal for weight loss results. However, it is important to consider that the higher the protein content, the more your appetite will be suppressed. Studies show that high protein diets reduce appetite and overall daily calorie intake. Therefore, pea protein is a great addition to your diet if you are seeking weight loss and looking for help to curb cravings. 
Another thing to note and help distinguish which brand and product is best for you will be down to its protein value. People use protein powders for different reasons. Some use it to grow muscle, some use it to repair and maintain their current muscle mass. Therefore, a high protein content pea protein powder, like Vega Sports Protein, may be best for those looking to grow their muscle mass. 
Whilst a lower protein content powder may be best suited to those looking to maintain their current muscle mass. It all depends on your preference and what benefits you are seeking.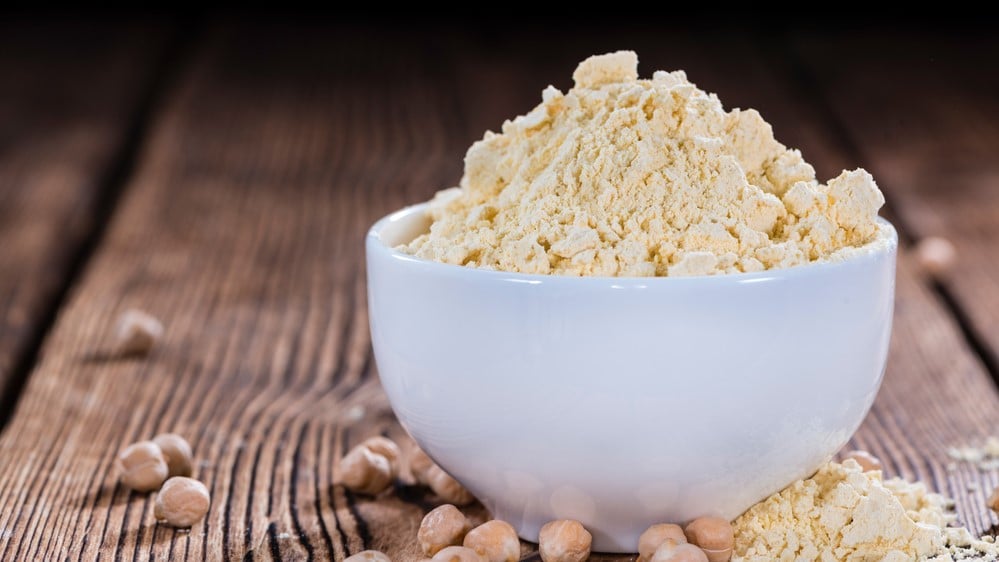 Is the best selling the best product for you? 
The best selling products in this market are those free from all 8 major allergens. A more genuine product will mean a happier customer and therefore lead to best selling reviews and awards. 
Pea protein powders that can market itself to a wider audience are always going to be most popular and gain a bigger customer base. However, always remember that a best selling product is not always the best for you. Check it's benefits, ingredients and user reviews before making a decision. 
Does a more expensive product mean it's better? 
A premium ingredient list may make a product sound like it can deliver the best results, but that is not always the case. Choosing the best protein powder for you is subjective and you need to choose according to your own goals and needs. 
Some pea protein powders have a more extensive ingredient list which seems to excite customers, but it does not mean they are better for you. The pea isolates that contain one or two ingredients seem to have the best user reviews, like Naked Pea Protein Powder. This powder is fairly priced in comparison to some on the market and one contains one ingredient. This suggests that an extensive ingredient list does not mean the product will help you achieve the best results or be the best for your body. 
Always research the ingredient list before committing to a product to ensure that it is the most beneficial and effective to consume on a daily basis. Every individual will differentiate in preference for which protein powder works best for them. 
It may be best to trial a powder for around one month to see what results you can achieve. Most protein powders work best with trial and error until you find the best fit. However, this list has been made to help you decide and choose your preferred one or two. 
What are the advantages/benefits of pea protein powder?
Many may wonder if pea protein can build muscle as effectively as whey proteins. The answer is yes it can. A 12-week study by the National Institutes for Health and Medical Research saw that weight lifting men who consumed 50 grams of pea protein per day gained the same amount of muscle as those who took the same amount of whey protein. This shows how pea protein is as effective as whey protein powders and is a great alternative. 
Another huge benefit and reported result is how well pea protein can suppress your appetite. One study showed that 20 grams of pea protein powder taken 30 minutes before eating pizza reduced the average number of calories consumed by 12%. It does this by making you feel more satisfied when eating less and making you feel fuller. 
It is important to remember that adding extra protein without regular exercise will not result in muscle growth like this. Working alongside the protein powder will achieve best results. 
Dangers/Side effects of pea protein
Pea protein has very limited side effects and is well tolerated by most consumers. The main side effect its users report is bloating. This is due to peas having a high fiber content. However, when the pea protein is an isolate, there is typically a lower fiber content which prevents bloating and gas buildup. 
For those who have to restrict or watch their sodium intakes, peas contain a high level of sodium. So it is advised to watch your intake. Some products can contain up to 390 mg of sodium per serving whilst some are lower with around 110 mg of sodium.
Generally, there are little to no side effects and most people work well with pea protein powder. However, if you do notice side effects then stop taking it immediately and seek medical advice. 
What's the best way to use pea protein powder?
The best way to consume pea protein is by adding it to smoothies or shakes, typically after a workout. Typically you add one scoop of your chosen powder to a smoothie, shake or water. Alternatively, you can add the same amount to food dishes such as sweet treats, pastas, risottos, sauces and soups. 
The most common way to take protein powder is in a drink. If you are looking to reduce your calorie intake, then the best way is to mix your chosen powder with water. This will mean no added calories and you will gain only the nutrition benefits of the pea protein powder. It is also recommended to consume just one serving/scoop per day for maintaining muscle mass or weight loss. 
If you are looking to add it to a drink to grow muscle mass or gain weight, it is best to add it to smoothie to increase the calories. You can also add any other desired ingredients to the smoothie. One to two servings per day is recommended for these desired results.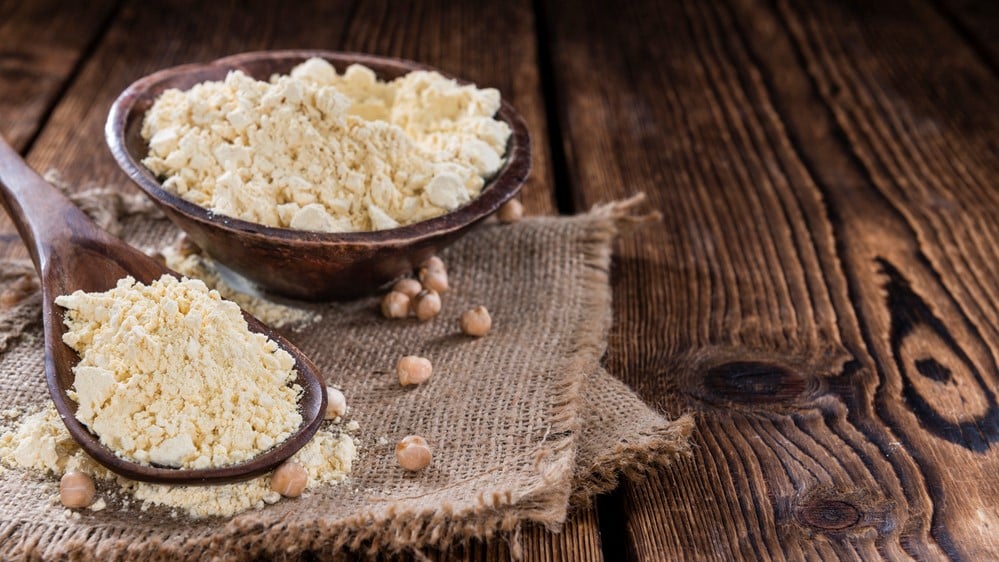 Precautions for taking pea protein powder
Just because the pea protein powder market states that the product is suitable for certain dietary requirements, always make sure to check the ingredient list. Now that there are many brands making their own pea protein powders, it is not guaranteed that all are genuine or safe. 
Another piece of important advice is to not over consume pea protein. It may feel logical to think that the more you consume, the quicker you will see muscle growth. Typically, you will probably see more muscle growth if you are exercising a lot. However, if you are not eating a healthy balanced diet and not exercising regularly, the over consumption could make you gain weight. So be careful not to take more than recommended. 
Another issue with the overconsumption is that peas are a source of fiber that can cause gas buildup and bloating. These types of hidden dangers can cause side effects and not be safe, so always be sensible and take only the daily requirements. 
Frequently Asked Questions (FAQ) 
Is pea protein bad for your kidneys?
Peas and pea protein can help improve your heart health as well as improve your kidney health. One study found that protein in peas can be used as a remedy for chronic kidney disease. They contain a healthy amount of protein, fiber and vitamins which are fat free and help lower cholesterol. For those who suffer with high blood pressure, this study found that pea protein can delay or prevent kidney damage. 
Does pea protein make you gain weight?
Pea protein should not be confused with whey protein. Peas and pea protein are much lower in calorie than whey protein due to the natural ingredients used during the manufacturing, especially the pea isolate powders. 

Protein powders of any kind are consumed to gain and rebuild muscle mass but it is not to be more over consumed. The over consumption of pea protein, like any protein powder, can make you gain weight, especially if you do not exercise regularly. 
To prevent weight gain, it is advised to take the recommended daily usage and maintain exercise and a healthy diet. 

If you are looking to gain weight with pea protein, it is advised to choose one higher in protein like Vega Sport Protein. This contains 30 grams of protein and one to two scoops of this a day, with substantial food consumption, can help with weight gain. 
Does pea protein have anti-inflammatory effects?
Peas are known for their anti-inflammatory and antioxidant properties. Therefore, pea protein powder holds the same inflammation fighting benefits. 

To gain the anti-inflammatory benefits, it is best to take a pea protein that isn't isolated. Isolated pea protein does not contain the carbohydrates that the non-isolated pea protein does. The carbohydrates hold the inflammation-fighting benefits and will help with inflammation issues and help reduce its effect. 
Is pea protein good for hair growth?
Pea proteins contain a high amount of amino acids. Amino acids have anti-aging, conditioning, strengthening and volumizing effects on the hair and the body. This makes pea protein a popular choice for those who want other added benefits than just muscle gain and repair. 

The protein content in peas is one of the key ingredients in any hair product to strengthen the hair. There are many types of protein you can add to the hair itself, but taking protein powders like pea protein can help encourage stronger and healthy hair. Pea protein slows down the loss of water in the hair which is essential for hydrating the hair and preventing it from breaking. 

=> Have a look on our Nutrafol Hair Growth Supplement Review
Is pea protein powder good for building muscle?
Yes, pea protein powder is good for building muscles. It can aid with heart health and weight loss as well.
Is pea protein slow digesting?
Pea protein is slow digesting. But that's a good thing. Slow digesting proteins have been shown to be good for muscle growth over time.
Does pea protein give you gas?
Pea protein can cause you to feel gassy. This is normal for first-time protein supplement users. The gassiness will subside after some time.
Conclusion
Pea protein powders have definitely found their place in the market for being a great alternative to whey protein. Not only does pea protein offer the same muscle growth and repair results, it provides other health benefits such as improved heart, kidney, body and hair health. 
The most successful pea protein powder from the roundup is considered to be Naked Pea Protein. This is due to its outstanding one ingredient formula, making it 100% natural with no added sugars, sweeteners or flavours. An all natural protein powder means it can be versatile and safe for all dietary requirements. It offers a high protein content with 27 grams per scoop. It is well reviewed amongst its consumers and is best selling, whilst still being affordable. 
Naked Pea Protein is closely followed by two others from the roundup. Vega Sports Protein Organic Protein. Vega Sports was big competition for number one spot, however its premium price makes it not accessible for most consumers. Although the premium ingredients make the product stand out. 
The reason for KOS Organic Protein being in the top 3 is due to its digestion benefits. It's not easy to come across a pea protein powder that is good for the digestive system, however this is great for those looking for an easy on the stomach protein powder.  
Naked Pea Protein is almost a mix of the runner ups, which is the reason for it being our number one. 
If you have fried pea protein powders or wish to try one from our list, leave your reviews below. Feel free to share this with others looking for the latest alternative protein powders to show them why it's a great option.